Budding Actors Hone Skills
Celebrating a playwright of color and performers of all colors
2/17/2014, 11:23 a.m.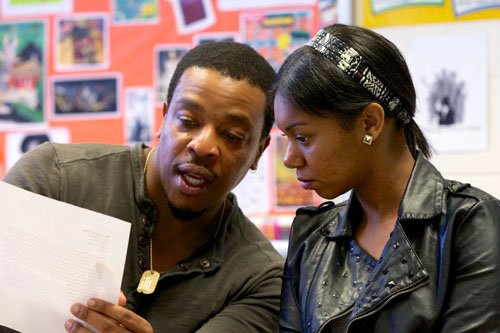 Portland area students are getting exposed to the work of the late Pulitzer Prize winning and African American playwright August Wilson in a real theater experience.
Sixteen high school students are finalists for parts in a local acting competition's final round. The Portland August Wilson Monologue Competition Regional Finals are produced and presented by the Red Door Project, and co-hosted by Portland Center Stage.
"From theatres to educators, we're involving everyone in a small way," said Red Door Project co-founder Kevin Jones, a black actor from Portland. "By giving these young people the opportunity to meet, engage, and support each other, the competition directly affects our racial ecology. It's introducing them to the movers and shakers in our community who can help them change their lives."
Designed to build more than acting skills for its participants, the students develop the confidence, discipline, and drive necessary to thrive as adults in a rapidly changing world, by learning how to take feedback and improve their performances in real time.
"Competition is important, not because we're trying to create winners, but because it's how the sword gets sharpened," said Jones. "You don't develop skills unless you have something to measure it against. When we're in a competitive environment, we work harder. When we're trained and tutored, we also learn what doesn't work, and we develop a process to improve."
"This is an important program for Portland especially," he continued. "We have more millennials moving here than any other city in the country, and they're bringing a different paradigm. They don't think of race the same way older generations do."
Jones says by celebrating a playwright of color and performers of all colors, "It makes it not only about theatre—it's directly connected to equity, and our city's future."
The competition is heating up as these budding actors prepare for regional finals next month.
"I want to have the opportunity to broaden my horizons, to expand and show the world what I am capable of," said one contestant.
"August Wilson portrays his characters in an original and commanding way that reminds us of the racial prejudice we must battle in our world, community and, most importantly, ourselves," said another.
First, second, and third-place finalists will receive cash rewards and a flight to New York City, where they'll perform on Broadway alongside the best young actors from Los Angeles, Chicago, New York, and other major cities in the U.S. In addition, Portland Actors Conservatory will award the eligible regional winner with a full academic, two-year scholarship valued at over $21,000.
Leaders from Portland's acting community are supporting the August Wilson project. Hollywood actor Russell Hornsby, for example, is on the roster of teaching artists. Known for his starring roles in NBC's Grimm, ABC Family's Lincoln Heights, and HBO's In Treatment, Hornsby has also appeared in films such as After the Sunset and Get Rich or Die Tryin.'
As for the finals event coming next month, Jones guarantees it will be a night to remember.
"These students have internalized these monologues to the point where they've become these characters. The performances will be intense, not only because it's a competition, but because these 16 students have become an extraordinary team, supporting and inspiring each other to make their monologues even better. It's going to be a rocking good time."
The finals will take place March 3 at 7 p.m. in the Ellyn Bye Studio at the Armory's Gerding Theatre. The event is open to the public and free to attend. Spots are going quickly, however, so those interested are encouraged to reserve their seats now at reddoorproject.org.