Cully Park Closer to Reality
Northeast site gets $1.25 million for construction
2/19/2014, 12:24 p.m.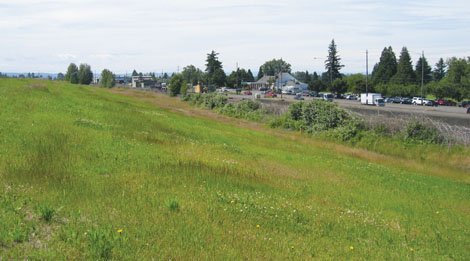 The future building of Thomas Cully Park in northeast Portland is moving ahead thanks to new $1.25 million investment by the city of Portland.
Parks Commissioner Amanda Fritz announced last week that the funding comes from System Development Charges – money raised from construction development, rather than general fund tax dollars.
The support comes a week after Fritz earmarked a significant investment for two other new parks in east Portland; Beech Park, a 16-acre site adjacent to Shaver Elementary in the Argay neighborhood; and Gateway Park and Plaza, a 4-acre park for the Gateway neighborhood to be built in partnership with the Portland Development Commission.
Cully Park is envisioned as a 25-acre park at Northeast 72nd Avenue, between Killingsworth Street and Columbia Boulevard. The parks bureau contribution will go towards the first construction phase, and will address the lack of parks and natural areas in the Cully neighborhood.

"The Cully neighborhood is unique; it is one of the most diverse neighborhoods in Portland, perhaps the state," Fritz said. "And, perhaps because of this diversity, Cully is home to some of the most dedicated and motivated community advocates in the City. I am proud to work towards our shared goal of completing Thomas Cully Park."
In June, the Portland City Council approved an agreement between the nonprofit group Verde and Portland Parks & Recreation for developing the park.
"Investment in Thomas Cully Park will produce multiple benefits for low-income people and people of color," says Alan Hipólito, Verde executive director. "This new park in a park-deprived neighborhood shows a deep commitment to hundreds of our neighbors."
Verde has successfully raised over $2.4 million thus far to implement Phase I of the Thomas Cully Master Plan. The property was a sand and gravel mine, then a construction landfill before starting the process of becoming a park. The city purchased the property in 2002. A community garden adjacent to the site was installed last year.
The remaining improvements planned by Let Us Build Cully Park! include pathways, dog off-leash area, playgrounds and picnic areas, tribal gathering area, youth soccer field, basketball court, parking lot, restroom, north slope restoration, and improvements to Northeast 72nd.
As the city commits to new parks in communities where none currently exist, the monies being used are restricted to expanding capacity only. Fritz said.
Officials said most of the city's existing parks are at a crossroads because of flat or declining operating funding. The Parks bureau has maintenance needs totaling over $400 million. From aging playground replacements to leaking roofs, the list of needs is huge, and grows every year.
Fritz said it's time for Portland to begin to think about how it can generate sufficient funds to maintain and repair existing parks and facilities.