Drawing to a Final Verdict
Ancer L. Haggerty reflects on journey to and from the bench
| 2/19/2014, 12:38 p.m.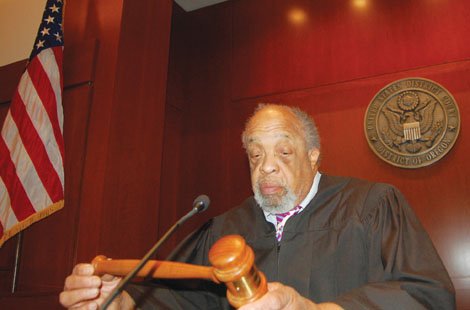 In 1993, President Bill Clinton nominated Haggerty to the federal bench.
Congress eventually accepted the President's nomination as the year came to a close. While that decision, 20 years ago broke another racial glass ceiling, in Haggerty's mindset, it was no different than his experience of being a racial minority in school.
"It's just the circumstances of my getting the position and being African American at the same time," he said. "Obviously I'm glad that it did happen, but I don't even think about."
Reflecting on the many final decisions he's had to hand down over time, Haggerty says he is comfortable with the great bulk of them because he always goes for the "right verdict."
"Some decisions are easy, some are hard, it all depends on what facts perk up in the case," he said.
Though he says he is not a big follower of statistics, when asked, he acknowledged the racial disparities that have come through his courtroom, but said he does not allow that factor into his decision-making when considering a verdict, only the facts.
"We have to look at reaching the correct result regardless of what politics may enter into it. We just push those things aside," he said.
Haggerty also was asked about a bill passed by the Oregon Legislature last year that requires lawmakers to examine any proposed legislation for its potential to disproportionately affect certain minority groups. He said it was important to evaluate whether the justice system works for everyone.
For this Vanport survivor, however, the intricacies of making rulings on the law will soon be past.
With multiple decades of time clocked on the business of justice, 69-year-old Judge Ancer L. Haggerty is calling 2014 his last go-around on the bench.
"I'm not gonna become a ski bum," he jokes, "but I'm gonna retire and drift into the sunset."
--Donovan M. Smith