Favorites to Watch
It's the final stretch for Portland International Film Festival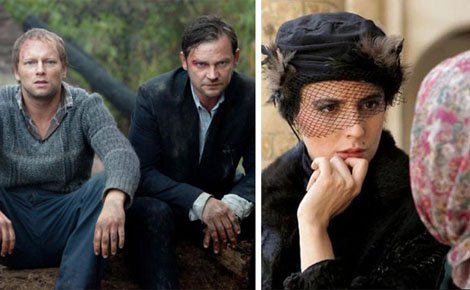 The Portland International Film Festival is in the final stretch and, as of this writing, I've seen 17 films since my last post. Here are the ones you can still see in the festival's final days, along with three more of my favorites to watch for in hopes of a theatrical or DVD release (and my ratings on a 10-point scale):
One of my favorite films of the festival was "Aftermath" (9), a powerful Holocaust story that apparently was quite controversial when it was released in Poland. Inspired by a true story of a Polish town, the film involves two brothers, the older of whom is returning home for the first time since immigrating to Chicago 25 years before. Franciszek's return has been occasioned by the fact that his brother Jozef's wife has suddenly left the village and moved to the U.S. with the couple's two children and won't say why. Upon his arrival, Franciszek finds that Jozef (and he, by extension) are the target of some hostility in the town. With some digging, he traces the hostility to Jozef's actions in unearthing some Jewish headstones that were repurposed for paving after the town's Jewish cemetery was destroyed during World War II.

It turns out that the headstones are just the tip of the iceberg that Franciszek encounters, and part of the achievement of this film is how genuinely successful it is at unfolding a very suspenseful tale of literally buried secrets. Significantly, the film does a better job than most Holocaust films at depicting how great evil may reverberate on unwitting successive generations. What drives the two men (one of whom seems to be anti-Semitic himself) to pursue the truth, how each reacts to the successive discoveries, and the reactions of the townspeople all are depicted with stark psychological realism. Full of devastating insights. (Plays again on Feb. 23)
"Ernest and Celestine" (8) is the best children's film I have seen at the festival, which inevitably means it offers much for adults to enjoy also. It's the charming story of a mouse, Celestine, and her friendship with a bear, Ernest. In the world of this delightfully animated film (based on a series of French children's books and justly nominated for an Academy Award), bears and mice live in separate worlds, above and below ground, nursing age-old antipathy with urban legends about each other. Celestine and Ernest have artistic souls, which contributes to their outsider status in each culture, and also provides a basis for them to bond. Of course, as outsiders, they also share a willingness to carve a path outside of convention, which lends a revelatory quality to the world they create for themselves. It's not a new theme, but it is very well executed here. And something about listening to their dialogue in French makes it all the more delightful. (Plays again on Feb.23)
The central enterprise of "The Great Passage" (6.5) is the arduous task of creating an ambitious dictionary (for which the film itself is named) during the period of change in which books are fading in significance and online resources are on the rise.