The Black Experience
Local author weaves personal tales into fascinating read
| 2/26/2014, 11:35 a.m.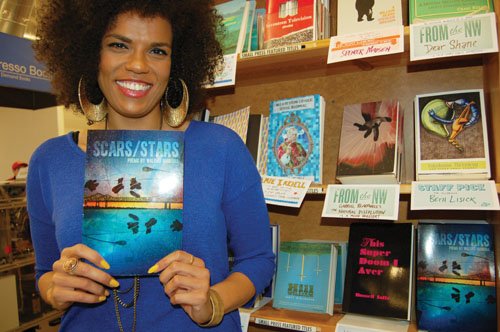 A debut book of poetry about the pain of political prisoners and the power of the black American experience intricately weaves personal tales into a fascinating read. The author, Walidah Imarisha, is local activist and professor of Black Studies at Portland State University.
The Portland Observer's Donovan M. Smith sat down with Imarisha at Powell's Bookstore to discuss the inspirations behind "Scars/Stars" and to dig into the nuances behind her work. The following is edited for clarity and brevity.
Scars/Stars seems really autobiographical. You referenced someone who had the last name Imarisha in the poem "Masterpiece." Did you get your last name from him?
Oh, that's my adopted brother Kakamia, and he got it from me. I was given my name when I was in high school, and he ended up taking my last name; we adopted each other. But, he's incarcerated in California now, and has been for 24 years. He was convicted at 16 and tried as an adult. He's 40 this year. But the amazing thing is he was just deemed eligible for parole, so as long as the Governor doesn't [veto] it, he actually is gonna get to come home which is pretty exciting.
For me, that poem about my brother is about looking at his tattoos. He's a tattoo artist, a visual artist, an incredible artist who has covered himself in these images that, you know, have political meanings that literally live on his body. We can read his body as a roadmap to what has been done to him, what he has done in response, and the person he's decided to be coming out of that. To me, he's living poetry.
So, I feel like that's what I try to carry into my work, taking those things that we hide, you know, and that we're told that we should be ashamed of, and try to bring it to the light and say that this is political.
What is a political prisoner to you? Because it's a buzzword sometimes.
I think the term political prisoner is, you know a complex term because I think sometimes folks mean specifically prisoners who were arrested and unfairly convicted because of their work organizing on the outside. And sometimes folks say, well every prisoner is political because the condition of being imprisoned is a political condition in and of itself. The things people did to get there are because of their political conditions, right? The majority of the folks in prison are there for crimes that relate to drugs, which are survival crimes. Either economic survival crimes, where you're just trying to make money, or self medication survival crimes where you're just trying to make it through the day. So, I think it's really important to acknowledge that.
The piece I wrote about Sundiata Acoli — he's an incredible organizer, a brilliant mind — who's been locked down for 40 years, is important to me because I think one of the functions of prison is repressing a generation of knowledge. We've lost some of our greatest minds to prison, and they're still sitting there. And it's so hard to reach out through those bars, but I think we have. The knowledge I've gained from being personally connected to Sundiata Acoli is invaluable, it's shaped who I am.