The Black Experience
Local author weaves personal tales into fascinating read
| 2/26/2014, 11:35 a.m.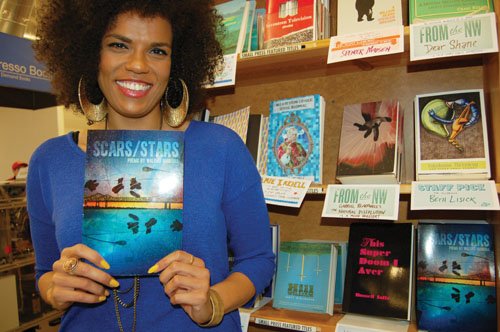 You said in the book "Sometimes poetry doesn't even understand itself," so today, at this moment, what does poetry feel like to you?
I think the thing about poetry, is no one writes poetry to get rich. There are not rich poets [laughs]. So I think poetry at its core is emotion, and it is an attempt to connect with other people. I teach writing, and I always say there's a difference between writing and sharing that writing because I think a lot of times writers say, you know, "I don't have a specific audience in mind, I don't wanna have a specific impact, I just wanna put it out" and I actually think that that's bullsh*t. You can write whatever you write, I've written things that were for me, because I did need to get it out, that I would never publish. But the minute you try to put that writing into the world, you have a reason, you have an intention, you have a goal in mind, even if it's just to have the world acknowledge that you exist for a moment.
Writers have to be conscious and responsible. For me I think poetry is one of the most powerful ways to connect with folks. So I think it is something that carries even more weight and responsibility.
Is there a political prisoner you think should be brought more to light, that you haven't really seen out there?
I think all of them. I think of the fact that we have over 100 political prisoners from the Third World Liberation era, sitting in prison. There's Oregon Jericho, a member of the Jericho movement. There's a list of all those prisoners online (http://oregonjericho.wordpress.com/). I would just encourage everyone to send a card, send a postcard if you can't commit to an ongoing conversation. And I think for Portland especially, there's the case of Patrice Ford who is the son of Kent Ford, the founder of the Black Panther Party here. The state presented no evidence against him, instead what it did was utilize repressive laws to basically beat people down and take a plea bargain. I think that Patrice was targeted because he is the son of the founder of the Black Panther Party. He was targeted because he is a black person in Oregon. He was targeted because he is Muslim in an Islamaphobic world, and he was targeted because he spoke out and tried to do what's right. He shows the intersections of all of our different oppressions, which we think of as isolated but are absolutely connected.
Imarisha's book of poetry is available for purchase at Powell's, both online and at the location on West Burnside; Amazon; St. John's Booksellers; and Reading Frenzy. On March 20 at 7 p.m., Imarisha will be doing a reading from the book at St. John's Booksellers.
--Donovan M. Smith