PCC Men's Basketball Win First Title
Coach shatters losing ways with PCC's first ever post season birth
| 2/26/2014, 11:27 a.m. | Updated on 3/5/2014, 12:11 p.m.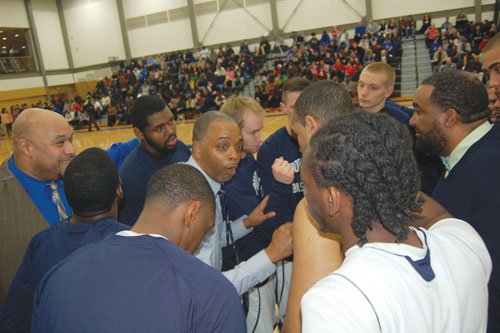 UPDATE: Led by Josh Turner's 27 points, the Portland Community College Panthers, won their first ever Men's Basketball title on March 4 in a 92-86 victory over the Pierce Raiders out of Lakewood, WA. This win comes simultaneously comes as the Panthers made history by clutching their first ever playoff spot in school history for the four day Northwest Athletic Association of Community College's basketball tournament.

--
It is safe to say there wasn't much celebration coming from the men's basketball program at Portland Community College in years past. After capping the 2012 season with a winless 0-24 record, it was clear the program was in need of either a miracle or some drastic changes.
Fast forward to this year, and the PCC Panthers have not only just secured their first playoff spot in the Northwest Athletic Association of Community Colleges post season, they are the No. 1 seed. The Panthers qualified for the March 1-4 tournament with a 111-106 win Feb. 19 at home on the PCC Cascade Campus against Chemeketa Community College.
The season turnaround comes in the second year for Coach Tony Broadous who was recruited from his 20 years of coaching experience at Grant High School.
As a native of the area, Broadous says he saw the potential for PCC's program immediately.
"I saw this place as a gold mine that just hadn't been really worked on," he says.
After accepting the position, Broadous immediately began rebuilding the program. First, he revamped the coaching staff hiring Aaron Bell and Tyrone White as his assistant coaches.
Then, it was on to finding the right players.
"We went and found a solid group of men—young men—who could play. Who had the heart to put in the effort it was gonna take. We had to practice long and hard and have some talent," he said.
Most of all though Broadous says it was a matter of infusing a "winning attitude" into the guys. In his first year, the team got past its losing streak to net 15 wins for the season.
Sophomore Carl Appleton rejoined the PCC basketball squad this year after leaving the team a couple of years back when the wins were far from the trend.
"When I played before we weren't very good, and it's not cool going through a whole season losing," says the 6-foot-4 Appleton.
But after hearing about the changes that had followed Broadous' arrival, Appleton dons the PCC jersey again.

"The difference in the coaching staff is the big thing, you know," he said.
Another sophomore, Warren Edmondson, came to the team the same year Broadus took over. He echoes Appleton's sentiments of rejuvenation.
"When I first got here, it was a new kinda energy. Start fresh—fresh scratch paper—and I was ready to roll with it," Edmonson says.
"We're just excited to be representing the city of Portland," Broadous says, "The goal was to turn Portland Community College into a powerhouse, and we're on the way of doing that. And it happened quick. We didn't think it'd take forever, but we're pleasantly surprised with how much we are accomplishing things."
On Saturday, March 1, the PCC Panthers begin their tournament play in a contest against Lower Columbia Community College. The game is part of a playoff schedule that runs four consecutive days at the Toyota Center in Kennewick, Wash.
--Donovan M. Smith