White Fighter Pilots Saved by Black Squadron
Thanks for bringing Uncle Don Home
Ron Weber | 2/26/2014, 11:20 a.m.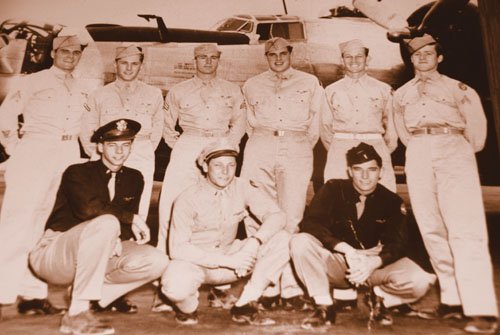 During World War II many military commanders believed that African Americans were not capable of learning how to fly airplanes. It was a silly notion, but never-the-less it was there. Obviously the doubters were wrong.
At the Tuskegee Alabama Army Airfield in the early 1940s a group of young black men would come to not only meet the arduous task of becoming Air Force fighter pilots, they would make an incredible mark in history for their pilot prowess and become a shining example in the fight against racism.
From the first graduating class on March 6, 1942, through the last class on June 29, 1946, a total of 926 black pilots earned their wings. Of these graduates, approximately 450 went overseas to fly in combat. They flew more than 15,000 sorties and almost 600 missions. Sixty-six black pilots were killed and another 32 became prisoners of war.
Our nation's first African American pilots fought hard for a country that had rejected them on many different fronts. They were often denied access in stores, hotels, and restaurants. They were "redlined" in regards to housing, barred from white neighborhoods and forced to ride in the back of buses.
The Tuskegee Airmen endured all of that and much worse. While much of more prestigious jobs in the military where considered off limits to African Americans at the time, Air Force pilot jobs were even more so. Fighter pilots were considered top notch. They were the elite of the elite. Opening these positions to anyone not white was considered impossible. But the Tuskegee Airmen did not give up hope for a better future. They dug in hard and deservingly earned their wings.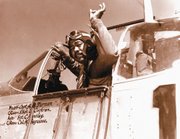 Tuskegee Airmen shot down 111 enemy aircraft and destroyed another 150 on the ground during World War II. They also disabled more than 600 enemy locomotives and railroad cars, a German destroyer and 40 other boats and barges. Most importantly, they flew over 200 bomber escort missions against some of the most heavily defended targets in the Third Reich.
The all-black 332nd Fighter Group was credited with "never having lost a single bomber to enemy fighters." While some military personnel have said they may have lost a couple of planes, one thing is for certain: The Tuskegee "Red Tailed Angels" had the best escort record of any bomber escort group out there.
They were known by their P51 aircraft with the tails painted a bright red. When bomber pilots looked out their windows and saw those shiny red tails, they knew they would make it home safely.
When the war ended, the Tuskegee pilots came home with 150 Distinguished Crosses, a Legion of Merit, 744 Air Medals, 8 Purple Hearts, 2 Soldiers Medals, 14 Bronze Stars, a Presidential Distinguished Unit Citation and a Red Star of Yugoslavia. Not bad for a group of men who were allegedly "not capable of learning how to fly."
In my world, the Tuskegee Airmen also did something else huge. They brought my uncle home.
Even though he is a second cousin, I always called Don Bachman "Uncle Don." Don grew up a farm boy in Iowa. Prior to his military service, he had never even seen a black man. As a young man he could never imagine that someday a group of African American pilots would save his life.