Tearing Up All Over Again
'Saving Mr. Banks' renews Mary Poppins charm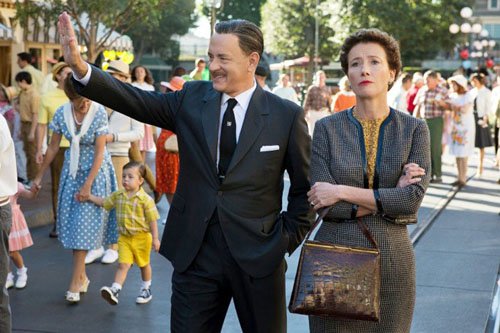 The film veers back and forth between the battle with Disney and Travers' troubled childhood. Although she saw herself as a relentless apologist against artificiality and sentimentality, Travers was herself a reinvention. She was not a British matron at all, but was born in Australia as Helen Goff (nicknamed Ginty).
She was deeply attached to her father, Travers Goff, a charismatic banker and hopeless alcoholic who perhaps nurtured her imaginative spirit but also hurt the family and died while Travers was quite young, leaving the family destitute.
During the troubled period of her life depicted in the film, Travers' mother attempted suicide and the family was assisted by a strong and brisk aunt who may well have inspired the character of Mary Poppins.
The film somewhat clumsily traces Travers' objections to the production to unresolved pain of her childhood losses and, despite the clumsiness, the connection resonates.
Colin Farrell, playing the father, captures (particularly in the early scenes) the child's vision of a beloved parent. The young actress who plays Ginty (newcomer Annie Rose Buckley) embodies the attentive resoluteness of a child grasping for the comfort she has sometimes felt in the embrace of a parent who increasingly fails her. That pain is real and, although the film's depiction of the connection between childhood pain and adult behavior feels oversimplified, Thompson makes you feel that pain too.
In the film, Travers consciously recognizes how her past is influencing her, and so does Disney. I doubt that happened. But something like that frequently happens on an unconscious level in the artistic process, and it is magic. Much of the fun of the film happens in scenes depicting the creative process, when the vaunted songwriting team of Richard and Robert Sherman (beautifully played by Jason Schwartzman and B.J. Novak) bounce out tunes that were so beloved to me in my own childhood, which was also characterized by the failures of those to whom I was most deeply attached. Perhaps I bought the depiction of the prickly Travers (who insisted the film was not to be a musical) gradually softening as these good-hearted men woo her with "Let's Go Fly a Kite" because those songs still reduce me to tears. And not until seeing this film had I ever consciously connected the story to my own childhood pain.
It may well be that Travers, in all her selfishness and complexity, responded to the music and good-heartedness of the Disney version, even while bitterly protesting it to the end of her days. She famously cried at the Hollywood premiere, and most people say it was because she hated the film, not because she was moved by it, as this film suggests. But I suspect both may have been true. In my experience, a person can relentlessly insist on hard-headed realism, and still be stirred by a hopeful vision of what ought to be possible, and be buoyed by a heartfelt song.
Darleen Ortega is a judge on the Oregon Court of Appeals and the first woman of color to serve in that capacity. Her movie review column Opinionated Judge appears regularly in The Portland Observer. You can find her movie blog at opinionatedjudge.blogspot.com