Building Support for Revolution
Activist furthers Black empowerment tactics
| 1/15/2014, 1:24 p.m.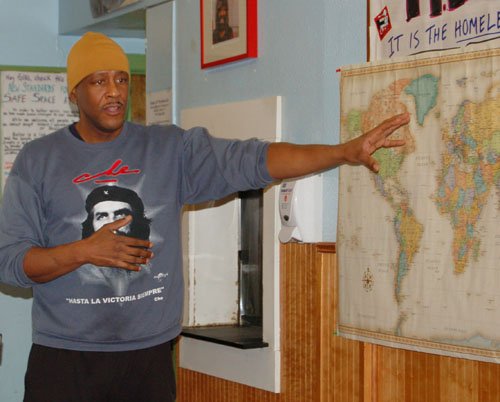 In a land where sunny days and black bodies are sparse in numbers, California-bred activist Ahjamu Umi sees 35,000 rays of opportunity. The Portland transplant is leading a civil rights campaign in his new hometown with the recruitment of members to the All African Peoples Revolutionary Party (A-APRP).
Umi was introduced to the civil rights group in the 1980s as a teenager in Los Angeles. At the time, he was fully entrenched in a turbulent gang life. An elder friend suggested he attend a lecture in the Bay Area by A-APRP front-man Kwame Ture.
Umi made the journey north for the talk, but says he was left underwhelmed, mostly due to a lack of comprehension of Ture's thoughts.


Ture would return to the Bay Area in just a couple of years. But this time, Umi was living there and more receptive to the party's message. He became a member. That was some 30 years ago and to this day he continues to work at building the group's message.
The pan-Africanist party was formed in 1968 as a way to unite people of African descent all across the world and elevate them economically. The organization was known for calling out the historic injustice of the world's black people not sharing in Africa's vast natural resources.
Ture was credited with coining the phrase "Black Power." His constant arrests (a number, he says, he stopped counting at 32) and his undying desire for equality, found him adopting increasingly more militant views, diverging from Dr. Rev. Martin Luther King Jr.'s calls for non-violence.
Over time, Umi became good friends with Ture, coordinating most of his events in Northern California.
Though the beloved leader of the A-APRP passed in 1998, the work of the group continues in nearly every sect of the world where black people can be found, from Ghana to Haiti, to Australia, and thanks to Umi, Portland.
The recruitment process in the Rose City has been slow.
Most of the work he's doing in Portland has him setting up open meetings at Portland State University and Sisters of the Road Café, simply letting people know the party exists. Study groups have been formed to read and discuss books like Umi's the "Handbook of Revolutionary Warfare" or W.E.B. DuBois' "The World and Africa." Tedious reads, but all necessary foundation to the revolutionary work he hopes to see in the Rose City.
"I would never be arrogant enough to say we are the answer. But we are certainly, from what I see out here, presenting a clear position as to what the problem is and what the solution is," he says.
"We're not presenting a theory that's just kinda out there and you either believe it or you don't. We're presenting a scientific analysis, and that analysis says that no matter where you were born, the fact that we got there, is a direct consequence of imperialism and slavery and that's irrefutable," Umi says. "We're presenting the fact that today the African continent is the richest land base in the world, but yet African people are the poorest in the world, that's irrefutable. And we're saying the fact that we're in all these places, and we're unable to control the mineral wealth of the African continent is something we should be striving to do to change our conditions. That makes, to me, absolute sense."
Starting Jan. 29, The A-APRP and Umi will be hosting Pan-African Film and Discussion Night every last Wednesday night on the Portland State University campus. The purpose of these sessions to present topics impacting African people living in 113 countries from a revolutionary Pan African perspective.
To contact the Portland A-APRP email them at aaprporegon@gmail.com.