Fighting for Justice with Police Reforms
Portland Activist follows path of Martin Luther King Jr.
| 1/15/2014, 1:17 p.m.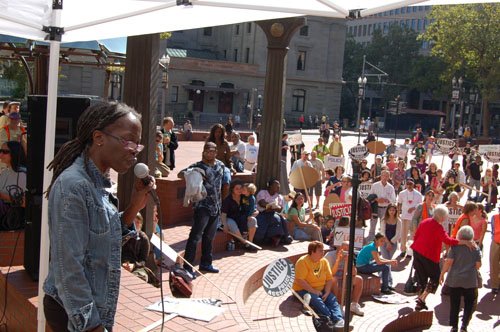 Too many lives have been cut short by violent confrontations with Portland Police and a northeast Portland activist has made it her mission to reform police department policies to bring about a change in the way police deal with the public, especially members of the African American and other minority communities.
JoAnn Hardesty is a former state lawmaker whose mission of justice is to prevent any further officer-involved deaths while also keeping those who've passed alive in the hearts of their loved ones and the community.
Now 56, Hardesty says she's fully committed her next few years to "making sure we have an infrastructure for police accountability when I'm done."
Her efforts are very much the same vein as civil rights hero Dr. Martin Luther King Jr. whom himself was unjustly jailed several times during non-violent demonstrations in the struggle for equality.
Fifty years ago during his "I Have a Dream" speech at the Washington Monument, King said, "There are those who are asking the devotees of civil rights, 'when will you be satisfied?' We can never be satisfied as long as the Negro is the victim of the unspeakable horrors of police brutality."
Hardesty's crusade has her facilitating community discussions throughout the metro-area.
For over a year now, she has held screenings of the locally produced documentary, "Safe and Sound" which details the police involved deaths of several Portlanders, including Kendra James, Aaron Campbell, James Chasse, and Keaton Otis.
She recently took up the cause of Otis' recently deceased father by holding a monthly vigil at the northeast Portland site of his son's death. Fred Bryant began the tradition in a call for justice for his son who died in a violent confrontation with Portland police several years earlier.
With visuals behind her, she steadily works to broaden awareness of the issues of excessive force, and provide non-violent alternatives for law enforcement. She doesn't hold back from calling for public use of cameras to record police encounters, which is lawful as long as it is not interfering with the police investigation.
Mass awareness is necessary in the city because of a much larger problem of racial profiling, Hardesty says, a tendency of police officers to stop persons of color more frequently, as well as use excessive force on them.
Recent data offered by Portland Copwatch and the Albina Ministerial Alliance, which Hardesty is actively involved, shows that blacks and Latinos are stopped by police at rates nearly twice that of whites; despite the fact that statistics show they are less likely to be carrying contraband or violating laws.
Numbers like these are unacceptable, she says, and highlight why police reform is necessary.
Though the former two-term state representative has been pushing for police reforms in and outside the "system" for years, it is only been recently that her efforts have been bolstered by a new group of local activists under the title of "The Campaign to End the New Jim Crow."
Co-chaired by longtime Portland activist Jamie Partridge, the coalition pulled the label from a book penned by Michelle Alexander entitled "The New Jim Crow" in which she illustrates the stark parallels of the prison industrial complex to lawful racism and classism.