Fighting for Justice with Police Reforms
Portland Activist follows path of Martin Luther King Jr.
| 1/15/2014, 1:17 p.m.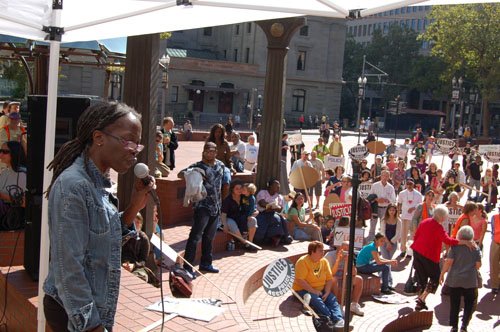 The campaign meets at the Cascade Campus of Portland Community College in north Portland every first and third Saturday of the month from 11am-1pm.
Currently their main agenda is for the adoption of a police review board that is completely independent from the city, and to have community members involved in police training to improve officer interactions with minority populations.
This itinerary has found Hardesty across the table from Mayor Charlie Hales many-a-time during his year in office.
Her faith in what can be accomplished with Hales, however, remains limited as he enters his second year in office, because she sees the Mayor as placing too much value on the opinion of Police Chief Mike Reese.
"It should be just the opposite, it should be Reese worried about what the Mayor thinks and how he can implement what the Mayor wants to see happen," Hardesty says.
One example, she says, is the chief's opposition to having community members involved in police force training.
Just the opposite is true in Hardesty's mind; if the police are dealing with any and every one in the community, it should be any and everyone who trains them at least on the sociable side of things.
"I don't want anybody thinking I'm anti-police. I'm anti-police brutality, I'm anti-police abuse, I'm anti-treating one segment of the population different," she says.
Hardesty will know success when she sees it.
"More transparency needs to be been built into the system so that the people that are coming behind me don't have to keep banging their heads against the wall asking the same questions over and over again to the same people who have no desire to fundamentally change," she says.
Currently the Department of Justice is investigating claims that the Portland Police Department has acted with excessive force on the mentally ill. A proposed settlement stands at $26 million. In preparation, the Albina Ministerial Alliance Coalition for Justice and Police Reform is hosting a series of community education forums beginning on Jan. 25 at noon at Maranatha Church to help them write and tape testimony for a fairness hearing scheduled for Feb. 18 at the federal courthouse.
--Donovan M. Smith