Black History and Hip Hop Culture
Educator brings mobile museum to Jefferson
| 1/22/2014, 1:03 p.m.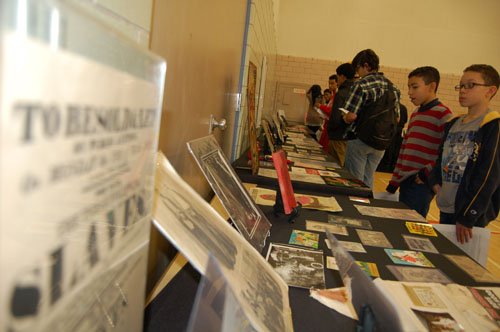 Scholar Khalid el-Hakim brought his Black History 101 Mobile Museum to Jefferson High School Thursday to help shine a light on how black history plays into the lyrics and images of hip-hop culture.
The museum features artifacts from the past, ranging from actual chains once used to enslave people, hoods worn by Ku Klux Klan members, to more uplifting images from black-owned publications like Jet and Ebony magazines.
One student was heard saying he got "chills" while taking in some of the racist images.
El-Hakim says that sentiment is a familiar reaction for students who haven't been exposed to some of the more raw artifacts from the past.
"There were some uncomfortable parts of American history they were confronted with," he says.
While a black history museum alone won't end white supremacy and racism in the United States of America, el-Hakim says it's important in terms of raising and maintaining awareness for a more just society.
"I think it's very important for African-American students especially to realize that they have to be responsible for changing the condition they are in," he says. "I want them to be empowered to make those changes and understand we can't wait around for someone else to make those changes we have to make those changes ourselves."
More information on the Black History 101 Mobile Museum can be found at www.blackhistory101mobilemuseum.com/
--Donovan M. Smith