My Walk Has Never Been Average
On stage with black women in non-traditional jobs
1/29/2014, 2:23 p.m.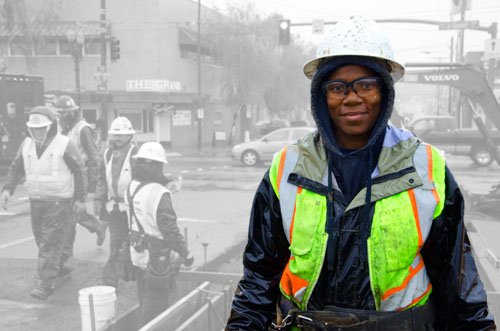 What is it like to be a black woman working in the construction trades in America? And if I'm not that woman, why should I care? How does her life impact mine?
The answer to that question will become apparent when you join the August Wilson Red Door Project and Portland Playhouse, who are co-hosting My Walk Has Never Been Average, a multimedia presentation based on the lives of women whose stories are rarely told.
Adapted for the stage from in-depth, first-person interviews with black women in all aspects of construction, the production will take place as part of Portland's Fertile Ground festival, on Saturday, Feb. 1 at 7:30 p.m. at Portland Playhouse, 602 NE Prescott St. The stories reveal great inner strength and accomplishment in the face of the multiple oppressions facing black working class women in America. These are stories of families and communities, of fighting for survival and achieving success, and of relationship dynamics when women move out of nontraditional roles.
The interviews were conducted by Roberta S. Hunte, who teaches Black Studies and Women, Gender, and Sexuality Studies at Portland State. Walk is directed by Catherine Ming T'ien Duffly, who teaches theater and performance studies at Reed College.
When asked why she was drawn to the project, Professor Duffly said, "What I love about the intersection of theatre and social change work is that it allows audiences to experience a given issue in a new way, and to offer new insight and new solutions to long-established problems."
Bonnie Ratner, who adapted the material into a stage piece, is also the executive director of the August Wilson Red Door Project. The Red Door's mission is to use the arts and dialogue to change the racial ecology of Portland.
My Walk Has Never Been Average stars Roslyn Farrington, Shelley Matthews, Angela Bonilla, Wanda Abioto, Angela Freeman, Skeeter Greene, Aiyanna Cunningham and Josie Seid. Tickets are $5 and are available through boxofficetickets.com or calling 503-445-6658.
The August Wilson Red Door Project will host a talk back following the performance. The performance is sponsored by Oregon Tradeswomen, Inc.