Through the Eyes of Africans
Cascade Festival of African Films to entertain and inform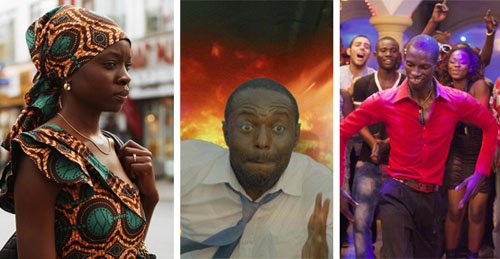 Portland Community College's 24th Cascade Festival of African Films brings 19 films and two African directors to Portland in February.
The longest-running annual African film festival in the United States entertains and informs with screenings now showing through March 1. The festival, which is free and open to the public, shows films ranging from full-length features to documentaries and short films. More than 5,000 people attend the festival annually. Each night's screening is followed by a discussion led by individuals with expert knowledge of the region shown in that evening's film.
"The films celebrate Africa's achievements, expose Africa's failures, and reveal the possibilities for change and a more hopeful future," said Tara Foster, film festival coordinator. "They show us pictures of Africa through the eyes of Africans, rather than a vision of Africa that is packaged primarily for western viewers."
All films are shown in the Moriarty Arts and Humanities Building Auditorium, Cascade Campus, 705 N. Killingsworth St. The opening night festivities were at the Hollywood Theatre, 4122 N.E. Sandy Blvd.
Feature films are on Friday and Saturday evenings (most features are also screened on Thursday afternoons) and documentaries are shown on Thursday evenings. A special matinees is scheduled for Saturday, Feb. 22.
This year's event is dedicated to the memory of South Africa's first black democratically elected president Nelson Mandela, who died on Dec. 5. On Thursday, Feb. 20, the festival will screen "Dear Mandela" at 7 p.m. This documentary addresses Mandela's "unbreakable promise," an ambitious plan to ensure housing for all. In 2012, when their shantytowns are threatened with mass eviction, three young South African activists take their government to the highest court in the land, putting the promise of democracy to the test.
Nigerian director Obi Emelonye will introduce his high-octane airplane disaster thriller "Last Flight to Abuja" at noon, Thursday, Feb. 13 and 7 p.m., Friday, Feb. 14 in the Moriarty Auditorium. The film is considered part of the "new wave" in Nigerian cinema that aims to improve technical production of the "first wave" Nigerian films to appeal to a wider audience.
Women Filmmakers Week & Director Visit - The Festival's final week is always dedicated to films made by African women. Director Apolline TraorÃ, from Burkina Faso, will introduce her newest cinematic project, "Moi Zaphira!" at 7 p.m., Saturday, March 1 - closing night for the festival. This narrative shows how far a widow will go to achieve a better life for her daughter.
Other highlights include family film day, documentary series and student film fest. For more information on films and times, visit africanfilmfestival.org.