Connecting
Play about broken relationships and other works highlight Oregon Shakespeare Festival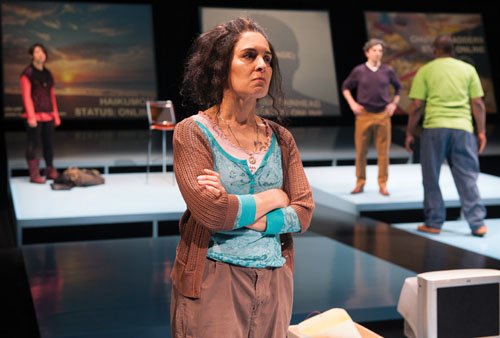 There's nothing more important than family. I would never make the mistakes my mother made. People don't change. Much of what gets expressed about family and community in life and popular culture is full of absolutist thinking like that reflected in such statements. But the reality of community is much messier, less linear.
So is the world of family and community reflected in "Water By the Spoonful," a play by Puerto Rican-American playwright Quiara Alegria Hudes that played at the Oregon Shakespeare Festival this past spring and resumes in September.

In the world of this play, communities (including families) are made up only of broken people. Young Elliot, recently returned from the Iraq war with a leg injury, is underemployed and caring for his aunt Ginny, who raised him when his biological mother (Ginny's sister Odessa) couldn't. Ginny is everything Odessa is not -- a true matriarch connected to place and community. Elliot seethes with nursed anger toward Odessa, a recovering crack addict living "one notch above squalor."
But the woman we meet isn't the one frozen in Elliot's memory. Odessa, who works as a part-time janitor, founded and administers a chat room for recovering addicts, and in that cyber world, she is a mama. Using the handle "Haikumom," she keeps the conversations safe, prods the participants to take care of themselves, and creates space for people at all stages of recovery.
Mother and son, however disconnected in life, are connected in ways neither recognizes. Elliot is wrestling with a secret addiction to painkillers, and is tormented by a brief missed connection during his time in Iraq that had tragic consequences. Odessa is five years clean, but her own pain over a tragic missed connection in Elliot's childhood jeopardizes her recovery, especially when Elliot refuses her grace that he needs himself.
Playwright Hudes, herself a musician, often finds musical inspiration for capturing the complicated rhythms of human interaction in her plays. Here she takes jazz as her inspiration--specifically the work of John Coltrane. His works, "A Love Supreme" and "Ascendance" feature a complex wall of sound that achieves a kind of transcendent dissonance. It's a fitting metaphor for attempts at connection among people who are in pain; who are worlds apart in age, geography, or experience; who are broken.
Elliot's cousin, Yaz, is a music professor who teaches about Coltrane. Disappointed in her life and relationships, she struggles with Elliot to care for an ailing Ginny and to make sense of her connection to the family, in the face of success that leaves her isolated in both the academic world and her home community.

The worlds and relationships in the play exist in a mixture of isolation and connection. Haikumom and her diverse chatroom family -- a young Japanese adoptee seeking to find her birth parents; a middle-aged IRS agent who has left behind any hope of reconnection with the family he failed, and an executive who minimizes his addiction -- reach, in fits and starts, to connect deeply. All have burned through relationships and long for a sense of belonging.