A Hidden History
Scholar Walidah Imarisha to lead civil rights talk
| 7/9/2014, 9:40 a.m.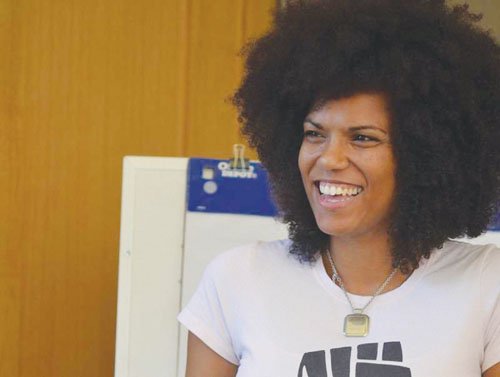 Portland is often quoted as being ''The Whitest Major City'' in America. Portland State University professor of Black Studies, Walidah Imarisha, examines this reported statistic with a more revealing question, "Why Aren't There More Black People in Oregon? A Hidden History." Her inquiry is the title of a seminar she's been taking across the nation.
Local residents are invited to hear Imarisha speak on the subject when the Oregon State Bar Civil Rights Section hosts a public commemoration for the 50th anniversary of the Civil Rights Act of 1964 on Thursday, July 10 at 7:15 p.m. at the Matt Dishman Community Center, 77 N.E. Knott St.
An authority in Oregon history relating to race, Imarisha hopes that more Oregonians will see that the small presence of blacks in the state, just 2 percent of the population, was mapped out by its founders, and the oppression and neglect of this community continues into today.
"Oregon was constructed as a white homeland, and that ideology of white supremacy has shaped every community of color – Black, Latino, Asian/Pacific Islander, Indigenous - in the state," says Imarisha.
Once inhabited heavily by indigenous tribes before the arrival of mostly white explorers and travelers, Oregon became the 33rd state of the United States of America in 1859. As reflected in many of the laws even before it became a state, Oregon at its core was to be completely void of black people.
The racism was clear; a law passed in 1844 stated that blacks were to be excluded from Oregon's borders, and if found, they would be publicly whipped every six months until they left, a penalty now more commonly referred to as "lash laws."
Imarisha says this law and others dictated what black people could and could not do, and the punishment they could face was purposely designed as a message for African Americans to stay away from the state.
Whether it be on-the-book laws outlawing interracial marriage, real estate covenants confining black people to particular parts of town, or even de-facto segregation of the state's public schooling system, Imarisha says every one of Oregon's historic institutions economically benefited the majority white population by disenfranchising black people.
For example, Imarisha points to the state's largest city, Portland, calling it a "white playground."
"The excess resources that allow Portland to be such a 'liberal livable city'—as long as you are middle class and white—are available because Oregon never intended to serve the needs of anyone but its white population," she says. "[Because of that] it is embedded in all of our institutions that shape every one of our lives, and has been reinforced and reaffirmed for centuries."
While it's vital for Oregonians to realize that there are no longer laws overtly stating what black people can do, there is now a coded racialization that targets minorities to this day, she says.
"We have been taught by media and other institutions that gang member means Black and Latino youth, just like we have been taught that undocumented means Latino, and terrorist means Arab/Middle Eastern. So while we were told laws like Measure 11 would lock up criminals, we actually see that it has a racialized impact, and that people who have committed the same crimes are treated markedly differently based on their race," says Imarisha.
Despite this intentional targeting of blacks in the state, Imarisha says the mere existence of black communities is Oregon is solely because of the people's determination, creativity, resilience, community-building, and resistance.
--Donovan M. Smith