In Loving Memory
Andria Wysingle Jones
7/9/2014, 12:44 p.m.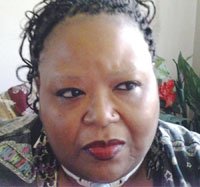 Andria Wysingle Jones died June 30, 2014 at the age 53 after an extended illness. She was born Jan. 5, 1961 in Portland to Johnetta Wysingle and Thad Spencer. She attended Lincoln High School and lived in Portland all of her life, raising two sons, Jelani and DeNorris.
She greatly enjoyed her family and her many cousins, including Robin who she considered a sister. She preserved after a bad auto accident and a house fire that took her youngest son's life and almost cost her and another young son's life.
Health issues eventually made her housebound, but not one to give up, she taught herself to use the computer and explore the web and social networks. She was an ambassador of goodwill and support to many. She will be remembered as a loving and kindhearted woman.
She was preceded in death by fathers Thad Spencer and Henry Jones Jr.; son Maurice McClendon; bothers Anthony and Robert Jones; and sister Carmen Anderson.
Survivors include her mother, Johnetta Wysingle Burkett; sons, Jelani and DeNorris McClendon; brothers Kenneth and Richard Jones, and Todd and Lance Spencer of Vallejo. Calif.; sister Tammy Spencer of Sacramento, Calif.; aunts Shirley Jackson Wysingle and Lillie Walker; and a host of nieces, nephews, cousins and friends who will miss her dearly.
Funeral arrangements are under the direction of Cornerstone Funeral Home and Cremation. Call 503-637-5020 for more information.