Dawson Unveiling
Historic park ready for new memories
| 7/15/2014, 3:55 p.m.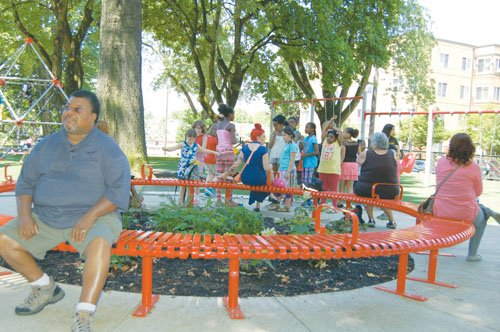 Children frolicked about testing gravity on the slides and swings, jumped from structure to structure, and doused themselves in water during a media tour Monday of the completed renovations at historic Dawson Park, located at North Williams Avenue and North Stanton Street.
Where bland and dated play structures once stood, updated and vibrant assemblies take their place. The $2.7 million "Dawson Park Improvement Project" which kicked off in November is now complete.
Mike Abbate, director of Portland Parks and Recreation said the two-acre park has been an important resource since the city purchased the property back in 1921.
"It's been the gathering place for the community, and now it's getting a fresh look. It's been renovated, there's new play equipment, new fountains, new places to sit, new lawn, and sunshine. So probably now than ever it's going to be place for the neighborhood to be," said Abbate.
Just blocks away from Legacy Emanuel Hospital, the institution that accepted responsibility for pushing many black families out of inner north Portland about a half-century ago because of the hospital's expansion plans, the new greenspace includes several nods to the local African-American community's vitality. It should be noted Legacy Emanuel donated $200,000 towards the construction of the park's new splash pad.
Isaka Shamsud-Din, a black artist, was commissioned through the city's Regional Arts & Cultural Council along with a design team to design the new fence surrounding the children's play area. He's also at work creating 14 two-sided panels depicting local black culture in north and northeast Portland that will adorn the fence.
"This neighborhood was the commercial center for the African American community which included outlying housing projects in north, northeast and southeast Portland," Shamsud-Din said in a statement. "Most of us shopped or frequented stores, restaurants and clubs within walking distance of the park. It's the story of energy and enterprise.
The Portland Development Commission had the lead role in funding the improvement project and contracting for construction.
"This neighborhood has long been a focus of our work," said PDC head Patrick Quinton. In all, he said the 89 percent "utilization rate" for the project contracting through disadvantaged, minority-owned, woman-owned, and emerging small business, which he called "almost unprecedented'' for a public construction project and a model the economic development agency is committed to continuing.
Donny Adair, a lifelong neighbor to Dawson Park and respected leader from the African American community, was recognized for his civil rights activism with his name carved into stone near the park's new splash pad. When touring the park, it came to his attention that his first name had been misspelled 'Donnie' on the carving. He still was happy with how the park had been transformed.
The former Boise-Elliot-Humboldt Elementary (previously Boise), and Jefferson High School student remembers kids creating their fun even back when the amenities (like a basketball court) at Dawson Park were few and scarce between; like turning the greenspace into a softball field, setting up imaginary borders.
"That gazebo over there, it wasn't there but we made [it] home plate, we played softball. And if you hit the building, or went over the building as some of us could do, it was a home run!" he reflects.
Other memories for Adair include a visit to the park by former U.S. Attorney General Robert Kennedy who delivered a presidential campaign speech at the site, just days before being assassinated in California in 1968.
Adair expects the improvements to the park will guarantee fond new memories for many years to come.
"It's a better facility, one that I can bring my grandkids to, and I say in a couple of years my great-grandkids—because I'm a great-grandfather now."
Wednesday he's looking to bring his 3-year-old grandson to the park for the official Dawson Park Dedication ceremony, which will also double as a free concert featuring Ocean 503. The dedication ceremony and concert begins 6:30 p.m. and is free and open to the public.

--Donovan M. Smith