Silence the Violence!
Youth take a stand to stop the community bloodshed
| 7/15/2014, 4:19 p.m.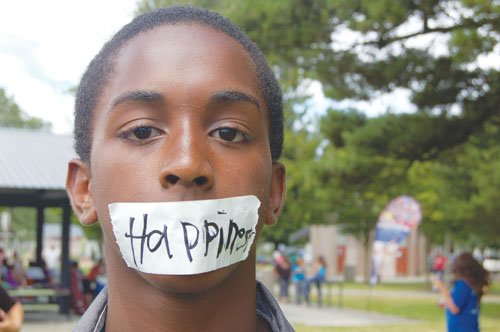 Portland youth gathered in McCoy Park, just down the street from where a young man was recently shot and killed, to say this, "Silence the Violence".
They were among nearly 90 people, kids and adults likewise, who filled the New Columbia greenspace in north Portland on a blazing hot Friday afternoon to spread a message for peace against a backdrop of summer gun violence that is up from previous years.
The majority of the victims have been black males in their 20's and younger. One of the latest shootings saw five people injured outside the Soobie's Bar & Grill on Southeast 122nd Avenue and Oak Street, leaving 26-year-old Hahrachio Branch dead just hours after Independence Day. Days later, a 5-year-old boy was struck in the leg in what police said was an unintentional target of a 'gang-related' shooting outside his southeast Portland apartment.
Other summer shootings police have tied to gang violence have occurred in north, northeast, outer southeast Portland and nearby suburb Gresham.
Tarvon Randolph, 14, co-chair of Striving to Reduce Youth Violence Everywhere, helped organize the "Silence the Violence" event at McCoy Park.
Randolph says he's lived in New Columbia for eight years and was down the street when 24-year-old Andrew Coggins was killed in a daytime drive-by shooting on Fessenden Street, a block from the park, in late June.
He says his mom is afraid for him to be out with his friends now, even if just for a stroll to the neighborhood basketball park.
"I wanna be able to come out here and hang out with my friends and chill. You know, play basketball and do fun things," he says.
As for the quiet demonstration, Randolph says it was a move to show the community that the youth want and can do positive things for themselves and others.
"We all care, I care," he says. "I will do my best to make this a better place."
Abdullah Hafeedh, a community health worker for STRYVE says a public response to the violence is especially important in a town like Portland, where many Black and Latino communities are fragmented.
A Southern California native, Hafeedh also called on government to invest more in vulnerable populations.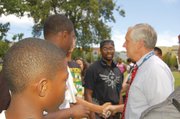 He acknowledged that there is gang activity in Portland, but as someone who was incarcerated for gangbanging in California before turning his life around, he says the situation here seems to have less to do with full-on gang organization around controlling markets like territory and drug trafficking, or making a name for oneself.
"Portland's scenario is more interpersonal conflict that plays out with maybe some groups involving themselves in some type of gang-on-gang interaction but there hasn't been an all-out war inside of Portland for years." he says. "So that lets me know the majority of the conflicts we're having here and there is not from direct gang-violence per-se, meaning cats trying to put their hood on the map—it's not about that."
Back at McCoy Park, the youth formed a circle with Hafeedh at the center. He addressed them by explaining how the idea to rally against the violence, wear black and white, and keep the gathering as an overall silent protest, was all the idea of young people.
He later led the crowd in a cheer, inspired by youth that want to preserve a popular reference to New Columbia before it was reconstructed and renamed from Columbia Villa, "They call [this] 'The Villa', they wanna take that back. Everybody say that with me!"
The crowd responded in force, "The Villa!"
--Donovan M. Smith