Hired for Summer Jobs
County grows program for youth who face challenges
7/16/2014, 11:31 a.m.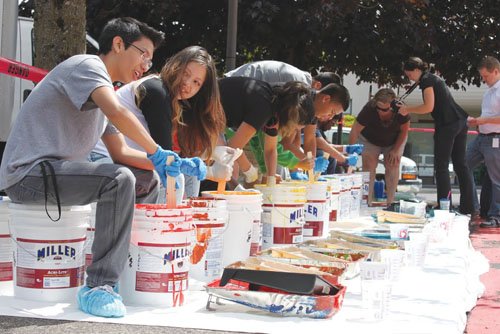 Young people are getting to work this summer with a SummerWorks job program now underway for the sixth year in a row.
Since 2009, Multnomah County has contracted with the non-profit Worksystems, Inc., to hire 2,617 young people between ages 16 and 21 in jobs that gain them work experience critical to their long-term success.
Nearly 60 percent of the funding comes from the city of Portland, Multnomah County, and Worksystems, Inc. which is financed in part by the U.S. Department of Labor.
The program emphasizes underrepresented youth who face challenges like growing up in poverty or are at risk of dropping out of high school.
"We've been able to grow this program at Multnomah County since 2011 from 25 young men and women to 125 this year," says County Commissioner Loretta Smith. "This program works because it connects young people with quality jobs at good pay and provides the skills they need to make their lives better now and in the future."
The program was formed in response to a persistent youth unemployment problem in Oregon; 36,000 young people are both out of school and out or work in the Portland-metro area. Last year, only about 25 percent of people aged 16 to 19 had a job. For young African-American males, the figure was a mere 12 percent.
Portland Mayor Charlie Hales has also prioritized working with public and private partners to build a more robust internship system for local youth, connecting Portland students to the local workforce, and is particularly focused on breaking down the disparities in education, work and family outcomes for African-American men.
"There are several ways we as a community have failed the African-American youth — education, employment, incarceration rates," Hales says. "These internships help level the playing field in a key performance measure, employment. This program provides a leg up. It's a small step, but a good one."