A Falling Taboo
As 'pot shops' open nearby, what does it mean for Oregon?
| 7/23/2014, 12:45 p.m.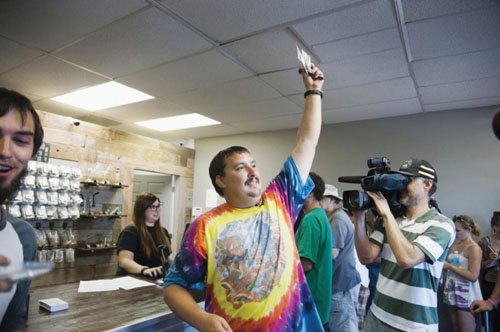 Marijuana is burning a path to legalization across the nation; Colorado has approved legal sales, so has our neighbor state Washington, and last week, the District of Columbia became the latest jurisdiction to decriminalize possession of marijuana. Ending prohibitions against the drug has taken varied degrees in each place, and Oregon could soon be next for recreational sales. How close are we? Do Oregonians even want legal marijuana?
Washingtonians certainly do. Just a 15 minute drive from Portland, entrepreneurs started opening up fully legal 'pot shops' in Vancouver, earlier this month. Though Washingtonians passed Initiative 502 in 2012, it took a spell for the state government to adjust to and implement the law.
The new rules in the state go like this: Purchasers must be aged 21 and older; they can have up to an ounce of marijuana (28 grams); up to 16 ounces of marijuana-infused product; or up to 72 ounces of marijuana-infused liquid product. Exceeding these limits would be a misdemeanor, while possessing 40 grams or more would rise to a felony.
Furthermore, it remains unlawful to ingest marijuana in public or in a vehicle in Washington. The confines of private property are the only authorized places where consumption of the drug in is legal. State employees also remain under a federal mandate preventing them from using marijuana. Oregonians, as long as they are within Washington's borders are subject to that state's law as long as they are visiting the state; that includes the purchase and consumption of marijuana products.
Demand has been so high (no pun intended) that most of the first recreational pot retailers in the state ran out of product shortly after opening their doors. Washington business licenses for the new pot shops were determined through a state lottery of sorts. The city of Vancouver is currently only allowing for 6 outlets to operate there and all must be closed by 11 p.m.
Oregon State Police say despite the shifts in marijuana law in Washington, they will not be doing anything differently to crackdown on people re-entering Oregon from Washington who may have purchased or consumed marijuana during their stay across the border. However, like in Washington, if pulled over with marijuana in the system, a Driving under the Influence of Intoxicants (DUI) charge could still be coming your way.
Oregon has a long and current history toward decriminalization of pot. Less than an ounce of the drug is punishable by a fine only. If possession of such an amount occurs in a public place or within 1,000 feet of a school attended by minors, the person committing the offense is guilty of a Class C misdemeanor. It should be noted that growing one's own marijuana plant remains a Class A felony.
For medicinal purposes, ranging from glaucoma, nausea, to anxiety, patients have been able to register through the Oregon Medical Marijuana Program since 2009, allowing them access to a number of marijuana dispensaries selling a wide span of marijuana strains for treatment.
Still, more than 10,000 adults in Oregon are arrested every year for marijuana, according to the latest numbers from Oregon State Police. That's an average of one person every 51 minutes.