Historic Site Gets New Roof
7/23/2014, 12:34 p.m.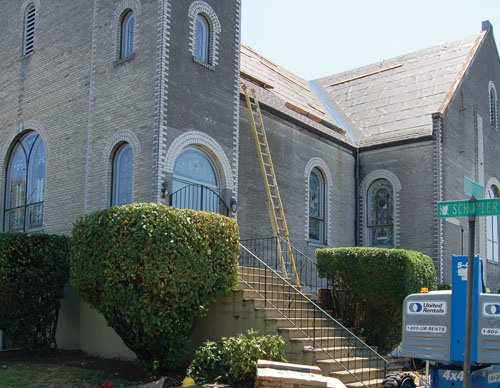 A historic site for local African American history is getting a new roof. Located at Northeast First Avenue and Schuyler Street, Mt. Olivet Baptist Church, was one of the original sites of worship for one of Portland's oldest black congregations.
The 1921 church is noted for having been built with donated lumber at the time from the racist Ku Klux Klan which wanted to help move the congregation across the Willamette River and away from northwest Portland.
Though Mt. Olivet Baptist Church currently has two other locations, their primary sanctuary on North Chautauqua Avenue and another in the suburb of Aloha, it continues to own the site at Schuyler, sometimes getting usage by a partner congregation.
A representative from Mr. Olivet did not reveal how much the roof restoration was costing, or how long it would take for completion, but says it follows restoration a few years back to preserve the original stained glass windows of the church.