Giving Back to Our Venerable Institutions
No free riders, please
Macus C. Mundy | 7/30/2014, 11:24 a.m.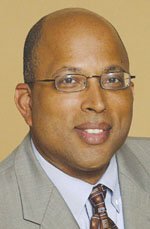 The lives of our African American nonprofit entities are in jeopardy.
We have relied upon the toil, innovation, and countless good works of venerable institutions like the Urban League of Portland and Portland NAACP for years. Adding to their efforts are smart, issue-specific entities such as Portland Community Reinvestment Initiatives (housing), Self Enhancement, Inc. (education and youth mentoring) and the Albina Ministerial Alliance (social justice/police reform); and even more recently, the bold and energetic Portland African American Leadership Forum which has stepped up to lead on issues ranging from community development to forging new activists in the crucible of their Leadership Academy.
But each of these organizations and many more community-focused groups in our region struggle to survive. Some may die because of the loss of funding. Others face a slow collapse of services until they become shells of the former dynamos.
For some, this process has already begun. And yet, ironically, every single person of color in Oregon – every Native American, every Hispanic, every Asian, every African American, and every immigrant – has benefited tremendously and directly as these organizations address inequity.
Further, and make no mistake, the successes of the LGBTQ community would not have been possible, without the precedent setting tactics, strategies and legislation (i.e., the "roadmap") that has been the cornerstone of the civil rights movement. You are welcome, all.
Every black man, woman or child alive in Oregon can ascribe some improved quality of life they are afforded today to the efforts of these local organizations and the brave and brilliant individuals leading them.

Every black Intel engineer, black Nike executive, black lawyer, black doctor, black Jefferson student or black Lincoln student or black Caitlin Gabel student, every black Irvington homeowner, every black cop or fireman: all of us, whether born and raised in Oregon or not, has benefited. We owe a debt that must be paid.
So why are these organizations in peril? We are experiencing a nightmarish manifestation of the "free rider problem." A free rider refers to one who benefits from resources, goods, or services without paying for the cost of the benefit. A free rider benefits from the sacrifice of others. Worse, free riders lower the morale and performance of high performers with the free riders' lack of contribution.
In our small African American community, we risk becoming a population of free riders. We get jobs at companies that wouldn't previously hire us, we buy homes where we were previously redlined, we frequent hospitals and businesses that before refused us service, and our children attend school anywhere we wish or can afford.
The problem is we don't routinely give back to the very institutions that helped us bear this fruit. We do not give to our own entities. We have become falsely convinced that "others" (corporate sponsors, government entities, foundations, etc.) will support our institutions; therefore we need not continue to do so.
The majority community watches, waits, and declares "If they won't support their own institutions, then why should we continue to do so?" Our own community watches as well, but too often it waits for someone else to step in.