Drug Courts Turn 15
Advocates praise corrections programs
6/4/2014, 1:02 p.m.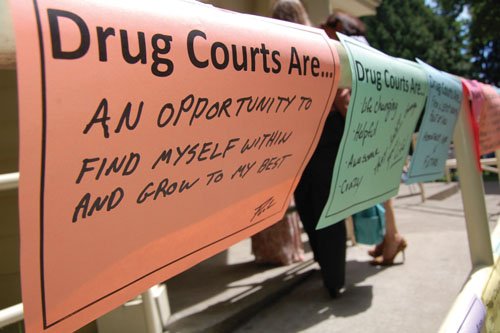 For 15 years now, Clark County has operated seven Drug Courts under the heading of Therapeutic Specialty Courts. The accomplishments of the courts were recently celebrated by public officials, advocates, graduates and the public at large during a special ceremony at Esther Short Park in Vancouver.
It's something Jared Sanford, chief executive at Lifelines Connections and one of the celebration speakers, called proof that treatment works.
"It's effective, it changes lives, and saves taxpayers a hell of a lot of money," Sanford said.
Lifelines Connections is a non-hospital based intensive inpatient treatment service, and partner to the courts program.
Officials say 1,070 graduates of the specialty courts have saved more than 72,000 jail beds in the past four years, which equates to about $7.2 million.
Clark County maintains six drug courts, one for adult felons, family treatment, juvenile recovery, substance abuse, mental health, and one for veterans.
Anna Lookingbill, resource coordinator for the Juvenile Recovery Court, says the success of her program is based on a national model that uses a combination of structure, intensive judicial support, and substance abuse treatment to help those struggling with addiction.
One of her graduates was Kyle, who also addressed the crowd at the May 22 celebration. With his court guardian, Danielle Hupp by his side, the now 18-year-old told how the recovery court set him on a path towards sobriety and happiness.
He opted into the program as a 16-year-old back in 2012.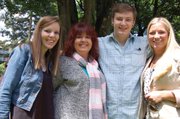 "The program's given me a lot of life skills, and just skills in general that you need to grow as a person," he said before thanking the staff of the drug courts. "I'm glad I had people to talk to and release these feelings to. I'm glad and I'm happy — I was never happy before until I got into this program. I can look people into the eye and smile, and it wasn't fake, and it felt good."
The Portland Observer spoke with Kyle right before he took the stage.
"Once I realized I had a problem, that's when I began to get in with the flow and it started to work out," he said.
Kyle says he's been clean since Nov. 25, the day he got out of recovery court.
Kyle's advice to others before he took the stage, "Keep it clean and you'll be able to live life the way you wanna live."
--Donovan M. Smith