New Grocer Bids for MLK Lot
PDC updates plans at open meeting
6/4/2014, 12:47 p.m.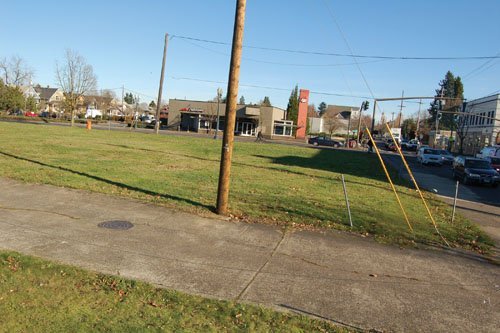 Plans by the Portland Development Commission to develop a long-vacant lot on Martin Luther King Boulevard and Alberta Street are moving forward with many of the same players involved before a community protest caused grocer Trader Joes to pull out of the bidding.
PDC Executive Director Patrick Quinton announced at an open community meeting at the adjacent Curious Comedy club last Wednesday evening that California developer Majestic Realty Co. and local minority contractor Colas Construction would be staying on board as participants in the venture.
Negotiations are currently underway among unnamed grocers that PDC is purposely keeping under-wraps. Quinton says it's not a definite deadline, but PDC is giving Majestic Realty Co. about 90 days to come back with a desired proposal for the land that would include another grocer as anchor tenant.
He said the plans respond to past and present calls from the King Neighborhood to bring an anchor tenant grocer to the site for the small businesses in the adjacent Vanport Square, many of whom have been struggling financially for years.
The agency will continue to offer a $2.4 million reduction in price for the land as an incentive.
Protests erupted from some in the African American community after the deal with Trader Joes was announced expressing concerns on how the deal was formulated and that it could cause further displacement of blacks in the area.
These protests are likely what caused Trader Joes to later pull out. Subsequently, Mayor Charlie Hales convened about 50 leaders from the local black community, business owners, and stakeholders in April to discuss the lot's future and future plans for affordable housing. Hales pledged an additional $20 million towards affordable housing at the end of that meeting.
As PDC looks to break ground within the next 10 to 12 months, Quinton also said he wanted to put together a 20 to 30 person ''project working group'' that would create a community benefits agreement with Majestic and Colas.
The Portland Observer will provide more updates as they come.