Fitting College In
Student speaker no longer has to put her dreams on hold
6/11/2014, 12:54 p.m.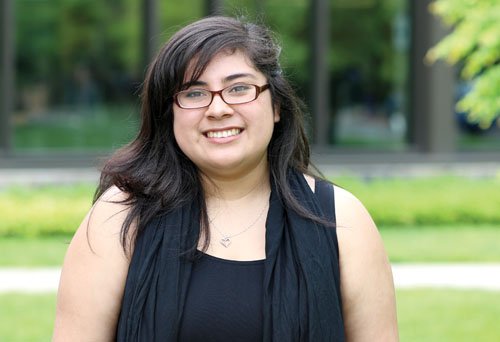 After graduating from Lincoln High School, Yesenia Herrera wasn't sure how college fit into her life. Now, she can't imagine it not fitting in.
The 20-year-old St. Johns resident was named the student speaker for the Portland Community College's commencement ceremony on Friday, June 13, at Memorial Coliseum. She was also recently awarded the Community College President's Award at Washington State University-Vancouver.
"I no longer have to put my dreams on hold," Herrera said. "I'm very excited to be student speaker, which is a bit of an understatement; more like I'm ecstatic. I want to talk about my journey, how I got from here to PCC from high school and the difficulties I had to face in getting to college being a first-generation student. I want to encourage people to take chances and see the different opportunities that are out there."
Herrera's development in work ethic, professionalism and leadership skills has been impressive while studying at the Cascade Campus, 705 N. Killingsworth St.
She served as Cascade's campus director of student programs and then as its diversity retention coordinator for Latino students where she mentored and tutored fellow students. Heavily involved with student government, she helped organize clubs, program activities and direct social outings such as Cascade's Dollar BBQ and the college's End of Year Party.
And she's contributed to lobbying efforts on behalf of the college in Washington D.C. Last spring break she joined other student leaders from PCC in lobbying for various issues that were near and dear to their hearts. Herrera was there to lobby for the restoration of funding for the federal Trio program, which serves low-income, first-generation students and students with disabilities. The national Trio budget got slashed due to the sequestration cuts last year.
At the Cascade Campus alone, she said around 2,000 students at Cascade are eligible for the campus' ROOTS Program, but there are only 140 spots available due to the current funding level.
After President Barack Obama restored 95 percent of the funds, Herrera and fellow student Madeline Rider were able to join Trio advocates from around the nation in D.C. to fight for the remaining 5 percent to be restored, which it eventually was.
Kendi Esary, Cascade Campus' student leadership coordinator, said Herrera has developed her public speaking skills, is civically engaged, supports the work of other students on campus, is a natural team builder and isn't afraid to get her hands dirty helping people out.
"Yesenia is an excellent facilitator and consensus builder," Esary said. "Her organizational skills, excellent oral and written communication coupled with her work ethic and drive for excellence make her a superior student leader. She is a coveted member of campus and college committees and she is highly respected for her dedication, fairness, and effective representation of students on local and state levels. Her leadership style brings out the best in all of our students."
Herrera moved to Oregon from California in 2008. She attended Lincoln High School and was active in extracurricular programs such as serving on Lincoln's Rose Festival Court, working as a camp counselor in a gang prevention program and co-teaching a class on Dialectics Behavioral Therapy. After high school, she had hopes for the future, but didn't know how to apply for scholarships or to colleges. She just was too shy to ask for help, Herrera said.