Fitting College In
Student speaker no longer has to put her dreams on hold
6/11/2014, 12:54 p.m.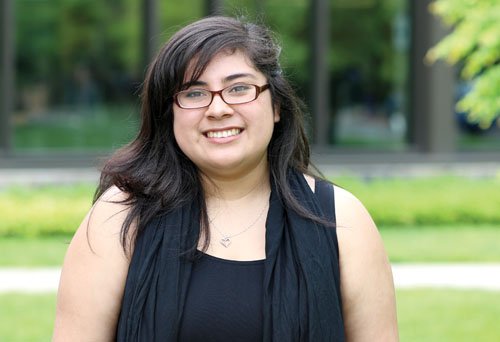 Her mother, Teofila Gonzalez, was taking English for Speakers of Other Languages classes at Cascade and would bring Herrera to campus all the time. One day, her mother was meeting with one of her instructors who noticed notes Herrera had taken. The instructor recommended she look into teaching as a career and recommended the Portland Teachers Program based at Cascade.
Even though Herrera wasn't accepted into the program, her mother wasn't going to accept the possibility that Herrera wouldn't attend college. So she took her daughter and son to the PCC registrar, who promptly enrolled them.
"I was too shy to ask for help and didn't know who to ask for help," Herrera said. "I would open up the different college websites and close them back up. Eventually, I just didn't think it was a route for me. But my mom wasn't taking no for an answer."
Her mom is a good role model. She earned her GED and certificate in pharmacy technology at PCC and now works at Rite Aid. Quite a journey for a person who started at the college with no more than a sixth grade education earned in Mexico.
"She's a very strong presence in my life," Herrera said. "She is definitely what keeps me moving forward."
Next fall, Herrera's journey continues at WSU-Vancouver where she will major in psychology and minor in neuroscience, and hopes to eventually earn doctorates in those same fields. She wants to eventually work as a bilingual therapist for survivors of domestic violence and sexual assault. But for now she hopes fellow graduates will find inspiration in the obstacles she's overcome and the success she has found along the way during her graduation speech.
"It has been a big struggle and I think I'm doing pretty well overcoming obstacles," she said.