New Fields and Tracks
Jefferson next in line for Great Fields project
6/11/2014, 12:58 p.m.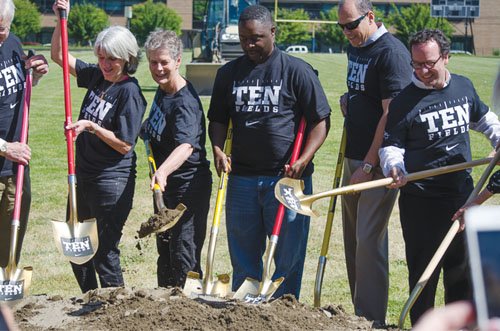 A 10-year community-wide effort to provide every Portland high school with a new track and a synthetic turf field took a big step toward conclusion Friday when student athletes, Superintendent Carole Smith, NIKE and community leaders broke ground on the first of four new fields and tracks that will be completed this summer.
The groundbreaking took place at Jefferson High School in north Portland. Other schools in line for summer construction include: Madison, Wilson and Marshall (to be used by Franklin during the bond rebuild of its school). Franklin High School will be completed in 2017.
"After 10 years it is truly gratifying to complete this effort to have a great track and field for every high school in Portland. I want to thank NIKE, the City and every community partner and individual supporter who made this possible for our students and our community. Now every neighborhood in PPS has access to a great track and field," said Portland Public Schools Superintendent Carole Smith.
The school district has provided about $2 million through the Great Fields fund to the projects to date, and recently added another $5.2 million to complete the project.
The Ten Great Fields endeavor began more than 10 years ago with a vision to ensure students across the city would have a safe and quality field and track to use year-round. It was a partnership with the school district, the City of Portland, NIKE, parents and community members. Over the years, Lincoln, Cleveland, Roosevelt, Benson, and Grant high schools have diligently raised money and installed new tracks and fields.
The final phase of the field construction will be supported by a $5.2 million more from PPS, and an additional $700,000 contribution from NIKE. The school district's contribution comes from Construction Excise Tax revenues earmarked for capital projects. Northeast United Soccer Club, Southeast Soccer Club, Foothills Soccer Club, Portland Timbers Army 107 Independent Supporters Trust, a major gift from Marcia Randall, and community fundraising will provide the remainder of the support.
To date, NIKE and its executives and employees have contributed about $1.3 million to the fields as well as on-going fundraising and staff support for the Fields project.
The upcoming completion of the fields comes at a time that Portland high schools are reuniting its athletic league – the Portland Interscholastic League – into a single 6A League for the first time in 8 years.
District Athletic Director Marshall Haskins, said, "As we move back to a United PIL PPS is making significant new investments in athletics. The Great Fields project is crucial to the success of our student athletes and promotes the health and wellness of all of our students."