Saving Lives
Clinic expands services to fight health inequities
6/11/2014, 1:07 p.m.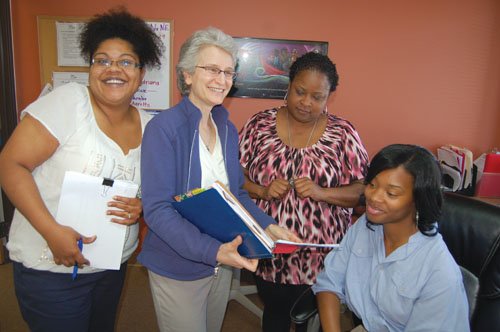 The North by Northeast Community Health Center just might be one of the best-kept secrets in north and northeast Portland. And they say it's time for that to change.
"We're not just a free clinic anymore. We're taking on new patients and we're able to offer a lot more services," said Dr. Jill Ginsberg, the health center's co-founder and medical director.

North by Northeast, at 3030 N.E. Martin Luther King Jr. Blvd., was created in 2006 when the Rev. Mary Overstreet Smith of the Powerhouse Temple Church enlisted Ginsberg, a family physician formerly with Kaiser Permanente, to help start a free clinic.
For over seven years the health center served low-income neighborhood adults with no health insurance, focusing on preventing the deadly consequences of high blood pressure, asthma and diabetes.
Now the staff and volunteers at North by Northeast are continuing in their mission to serve the African American community and other disadvantaged populations to reduce health inequities that cause illness and death.
Under a new partnership with CareOregon and the Affordable Care Act, the clinic accepts Health Share/Oregon Health Plan and is more focused than ever on managing chronic conditions so they don't spiral into more serious health problems.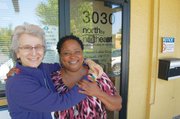 "As a nation we are failing in our treatment of high blood pressure - especially among African Americans. That's one reason for the high rates of stroke and heart attacks in our community. We've made it our highest priority to help our patients get their blood pressure under control," Ginsberg said. "And it's working. We're saving lives."

"It's different here," said Sharetta Butcher, community health worker at North by Northeast. "People are known by their names and they feel the love we have for them. They're not just an insurance number."

Butcher describes her job as "meeting people where they're at" both physically, in their homes or at their jobs, and emotionally. "We're reaching people who haven't been to the doctor in a long time," she said. "It takes trust for them to make that first step."
Much of Butcher's job involves helping patients to keep their appointments, get their prescriptions refilled and remember to take their medications. "If you have meds to take twice a day, putting the bottles with your toothbrush is one way to remember," she said.
Sometimes it means helping patients get a second chance. One patient recently needed a colonoscopy for rectal bleeding. He had trouble getting to his appointment and the specialist said he wouldn't reschedule.
Butcher and Dr. Ginsberg went to bat for the patient, got him rescheduled and made sure he kept his appointment. When colon cancer was found, they made sure he had what he needed to get through his treatment. The patient likes to say that North by Northeast saved his life.
Even the Portland Observer family has found help at the health center. After publisher Charles Washington died of a heart attack in 2012, Dr. Ginsberg talked with patient Mark Washington, Charles's brother, about his family history and risk of heart disease and arranged a visit to a heart specialist.
"It's a blessing that this clinic is here. They have saved a lot of lives, including my own," Mark Washington said.
The health center's staff and volunteers provide primary care services three days and one evening a week to adults, ages 19-64, including care for high blood pressure, diabetes and asthma; women's health care; referrals to specialists as medically needed (cardiology, liver, etc.); and X-rays and laboratory testing (off-site).
North by Northeast also provides free blood pressure checks for community members during business hours and has helped over 500 people enroll in health insurance.
If you need health insurance or are looking for a place to call your "medical home," call North by Northeast at 503-287-4932.