Move Over for Luxury
Trend sees older housing stock leveled for higher-cost living
Colin Staub | 6/18/2014, 1:08 p.m.
"You see that in commercial development like that on Alberta and MLK, apartments going in on Williams, single family home flipping, teardowns, that's all in the service of profiting for development. Those are impacts that are felt throughout the city,"
There are some differences in how the public learns about the different types of development proposed for their neighborhood. For instance, when a large apartment complex begins development, it's fairly obvious to the community. There are public notices and hearings. Single family home demolitions, however, are harder to follow and public notices are not required.
"One of the challenges is that it's really hard to track that," says Bates. "It's not like these big apartment buildings that are going in, it's an individual person transacting with another individual person."
Still, despite the challenges, some strategies have been employed to counter the demolition trend.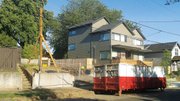 Bates says a program by Portland Community Reinvestment Initiatives, a northeast Portland non-profit which does work on homeowner stabilization, involves talking to homeowners, figuring out why they want to sell and what some alternative actions could be.
"Is it that you are cash poor? Do you know the possible range of things you can do? Do you know about reverse mortgages? Do you know about how to get financing together?"
Besides housing affordability, demolitions have brought up environmental concerns. The sustainability issue is complicated — after all, new constructions offer the potential for the installation of innovative, environmentally-friendly fixtures.
Many new constructions in Portland, particularly larger apartment complexes, have received Leadership in Energy and Environmental Design (LEED) certification, which is a "green building certification program that recognizes best-in-class building strategies and practices," according to its website.
One such LEED-certified development is an apartment complex on North Williams Avenue, called The Albert. Completed in 2012, this four-story, 72-unit mixed-use apartment building highlights its environmentally-friendly features in its advertising. The building's website emphasizes the "green focused" nature of the building, and lists specific features such as "rooftop-mounted solar hot water panels" and "low-flow fixtures."
Advocacy groups, however, have pointed out that sustainability often involves more than meets the eye.
"It's been at least 30 years since the Historic Preservation [League of Oregon] started modifying the value of buildings in terms of what they call 'embodied energy,' the environmental value of the materials that make up that building," says Brandon Spencer-Hartle, senior field programs manager at Restore Oregon, a preservation and reuse advocacy group.
"That's not just the environmental value of a brick or a two-by-four, but it's the cost to the environment to log trees, mill the wood, transport it to the building site, and erect it into a building."
The Albert was built on a vacant lot, but others, such as the Beaumont Village Apartments on Northeast 44th and Fremont, required demolition of existing buildings. In cases of demolition, the sustainability issue gets even more encompassing.
"It's the cost to the environment of demolition, of transporting that material to the landfill, of landfilling that material," says Spencer-Hartle. "So it's looking at what they might call the life cycle of the environmental value of a building."
The Northeast Coalition joined with other district coalitions to address many of the issues surrounding demolition and infill, including affordability, sustainability, neighborhood character, and other topics, at a recent public session at Concordia University.
"We're excited to help share information with people," says Cohen. "There are a lot of things going on in the neighborhood, and I hope we can help connect people with some resources."
--Colin Staub