Sweet History
Couple broke racial barriers in business
6/18/2014, 12:54 p.m.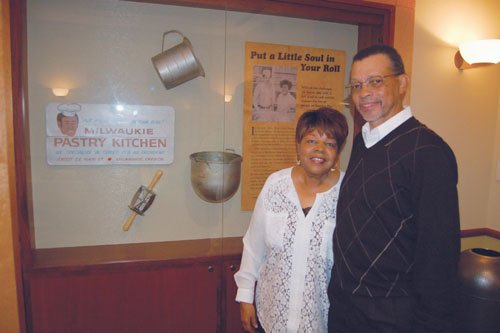 You can't go there now, but the sweet treats of Milwaukie Pastry Kitchen are once again an Oregon hot spot. Co-owned by Hurtis Mixon Hadley Sr. and his wife Dorothy Bishop Hadley, the historical bakery is currently the subject of an exhibit at the Oregon Historical Society, downtown.
Founded originally in the 1940s before the Hadley's took over in 1977, Milwaukie Pastry Kitchen was not only the sole black-owned business in the city of Milwaukie at the time, it was the first black-owned bakery in the entire state of Oregon. The full-line bakery offered specialty breads, assorted pastries, and creative birthday and wedding cakes to their hungry patrons.
"Put a little Soul in your Roll" was the slogan the couple used to promote the bakery.
"It was like a frontier," Hadley Sr. said, "Some of the businesses were very receptive and sent flowers our opening day."
But not all were happy to have an accomplished black couple in their midst at the time, or black people at all in the mostly white town. Hadley was even falsely singled out as robbing a white business owner at one point just as the business was just getting started.
After that tough first year, however, Hadley proudly says business and the general reception he and his wife received improved.
"After the first year, we had a good reception from the community. We had lots of customers coming!" says the Jefferson graduate.
For eight years the couple operated Milwaukie Pastry Kitchen. In 1985, the two were forced to shut their doors because of an economic recession, one of "casualties" during Ronald Regan's tenure as president.
All in all, they call their historical run a good one though.
The Oregon History Museum exhibit, which began on May 25, will run for the next six to eight months in the Madison Room, which is used for meetings and small receptions, with an adjacent terrace and view of the South Park Blocks.
Admission is free for residents of Multnomah County, and for active and retired military personnel and their families through Sept. 1. On Saturday, June 21, a special Community Day gives free admission for everyone. Otherwise, general admission at the museum is $11 for adults; $9 for senior citizens and students over 18; $5 for youth 6 to 18; children under 5 are admitted free.