Black Girl in Suburbia
Filmmaker explores racial ignorance and alienation of suburbia
| 6/24/2014, 4:10 p.m.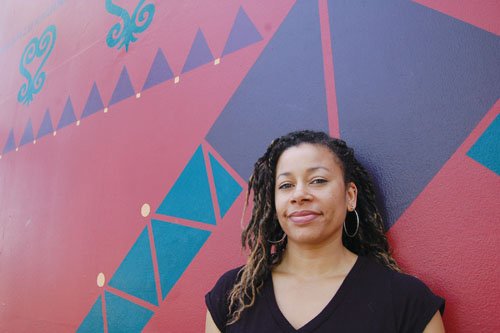 A young girl takes in a drink at the water fountain and the boy next to her, well, he refuses. He fears the color of the girl's skin might rub off on him if he did. It was at this moment in childhood that Melissa Lowery says she no longer questioned if she was different. She knew then she was a black girl in suburbia.
That experience and many others have served as fuel for a film she recently released entitled "Black Girl in Suburbia." The documentary explores the tales of women of African descent, some still in school, some long past graduation, who were primarily raised and educated in mostly white communities.
It's a story particularly close to heart for Lowery; not only did she spend almost all of her young life living and going to school in West Linn, but now a mother herself and a graduate of media arts at Pacific University, her school-aged daughters are navigating the sometimes turbulent racial currents of their mostly white classrooms in suburban Hillsboro.
Lowery, 38, says she has quite vivid memories of her earliest years around what was essentially the hub of black culture in Oregon, northeast Portland. She lived by Lloyd Center, went to school at both Sabin Elementary and Woodlawn United Methodist Church. Blackness simply 'was' for her at the time.
But in first grade, her mom remarried, and she her brother and would make the switch from northeast Portland to call West Linn home.
Initially, she says she didn't really notice a change in culture; she was still attending Sabin. But once school in the 'burbs began, Lowery, with her hair neatly braided and beads added for decoration, says she was made aware by her new peers that she was somehow "different".
"I knew we moved but I didn't realize the people until I started school out there, and that's when, I was like, okay this is a little different than what I'm used to," Lowery says.
She credits the taunts, teases, and questions from her schoolmates to a genuine ignorance, and lack of opportunity to interact with many, if any, black people.
It was the moment at the water fountain, though, that cemented a deep alienation rooted in cultural misunderstandings. Racial ignorance amongst her peers was something she would have to navigate up until she walked the stage for graduation at West Linn High School.
She says her best-friend at the time, May, who was also black, and a youth social service group she created in high school for some of the few students of color, helped her keep a sense of pride in her culture.
On the whole, Lowery reflects on her childhood with fondness. She says it was her own children's experiences with race and identity that caused her to explore the subject deeper.
In 2010, she began crafting "Black Girl in Suburbia" simply to validate her daughter's own experiences, and share the stories of other black women on film.

Though she and her husband make a conscious effort to let their two young girls know they are beautiful on a constant basis, the couple knows how negative perceptions directed at them based on racial prejudices can take place outside of home.
When she released the trailer for her film as production got underway in 2011, she realized just how potent and relatatable a story about growing up in predominately white communities was for others. People from Florida to Illinois began responding to Lowery detailing how much they related to the story and how they anticipated the film's release.
From there Lowery made it an even higher priority to focus the documentary's directive on creating conversations around race, gender, identity and other subjects.
"I want it to spark something inside," she says, "Because that's my way of starting change, because once you have a conversation with somebody, you take that into your other conversations, you know."
When she premiered the film earlier this month in Hillsboro, she says an older black woman approached her with tears welling in her eyes. That woman was one of the many black kids that were bused from inner northeast Portland to white schools in the late 1970s.
"Black Girl in Suburbia" is having a free showing at the North Portland Library, 512 N. Killingsworth St., on Sunday, June 29 at 2 p.m.
La Toya Hampton who is featured in the film will be hosting the event. Lowery will be in house for a discussion after the film. Seating is limited. To reserve your spot, visit eventbrite.com and type in 'black girl in suburbia'. More information on the film can be found on the website blackgirlinsuburbia.com.
--Donovan M. Smith