"16 Bars" Going WorldWide
Local emcee boasts global exposure following debut release
| 3/5/2014, 11:37 a.m.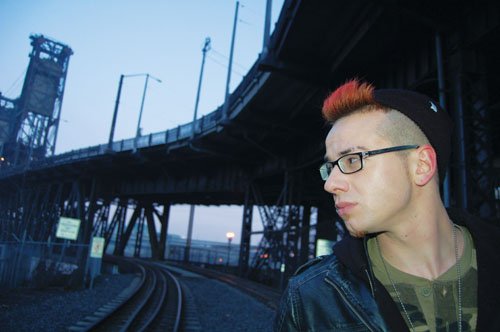 Less than two minutes into a sit down with this interviewer, a fan rushed into the Sizzle Pie pizzeria off Burnside and approached our table; he wanted to shake the hand of emcee/songwriter Mike Bars.
The adulation might be expected considering Bars has racked up close to half-a-million views on a 4-month-old video alone, and over 4,000 downloads on his 3-month-old debut album.
"It's been happening more and more man, ya nah'm sayin' which is cool," he says as the fan leaves, adding with a crack, "and no, I did not pay that dude to come."
With his first project titled "16 Bars," Portland's own says he's only just getting started.

This album is fittingly 16-tracks (sans the Portland anthem bonus track, "P-town") and came about as a result of Bars obsessing over another project he has been working on for nearly two years, titled "The Mikerophone."
"16 Bars was like a relief for me, you know what I'm saying—like a creative relief. I was so focused on The Microphone and doing everything that I was doing, that I didn't get to write anything new."
This output finds Bars exhibiting his often eclectic range, spinning on the usual braggadocio-train that's expected from rappers, to moments of humbleness and vulnerability.

One moment you'll find Bars rapping lyrics like "Foul mouthed, you Listerine/I'm a diss machine/Nasty, you like Mr. Clean/I spit supreme/With a 1000 an hour salary/That's why they kiss the crown not the ground when they bow down to me" on "Hit 'Em High" then next you can find him transforming hit Frank Ocean ballad "Thinkin Bout You" into his own with the assist of autotune, to reflect on a painful split with an ex-girlfriend.

The ambidexterity of Bars' soundscapes is not lost on him. They are, in fact, part of his larger goal of pulling in a range of listeners.
"As an artist, I really wanna continue to be myself. And another thing I wanna do is infiltrate people's minds to the point where you can make a positive change in this world. That's something that would be really dope to me."
He points to "There Will Be Blood", the track that as of March has racked those near half-a-million views as an example. Both the video and song, which features Funk Volume emcee, SwizZz, sees the two artists spitting lyrics that might even give Stephen King some inspiration for his next book, or at the very least find him applauding the effort.
"I think it had a lot to do with the visuals," he says. "It's the fact that there's so much blood, people's heads chopped off and sht like that. I can't even watch sht like that. [But] since I was making it, and kinda saw what was happening behind the scenes [it was okay]. You know, we kinda did it to be funny, like the talking head on the table [laughs]."
With fans that now include folks from the North, West, East, and the South, and across the Atlantic in Europe, "Mike Bars" will almost surely be having more fans reaching out to him, like what happened at the Sizzle Pie that day.
In the meantime, the Portland artist is busy flying across the country, shooting visuals for different songs, looking at the possibility touring soon, and generally growing his brand and exposure.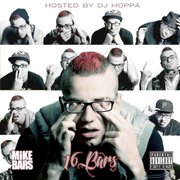 To download 16 Bars for free go to mikebars.com. Also be sure to "like" Mike Bars' page on Facebook and follow the artist on Twitter @Mike Bars.
--Donovan M. Smith