Youth Employment Support
African American chamber helps with computers
3/12/2014, 11:14 a.m.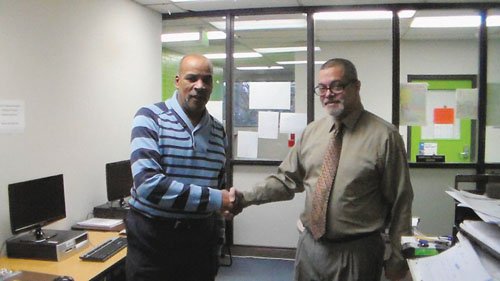 Through the combined efforts of the African American Chamber of Commerce of Oregon and a generous equipment donation from CenturyLink, the chamber was recently able to provide enough refurbished computer systems to upgrade the student learning lab at the Youth Employment Institute.
The lab was equipped with computers that were too old to support a newer version of Windows. That's where Steve Watkins, the African American Chamber's director of internet technology and communications, stepped in.
Having secured an equipment donation from CenturyLink a few years ago to populate the now defunct learning lab at Sabin Community Development, Watkins reached out to his contact at CenturyLink to successfully find equipment that could be donated for the Youth Employment Institute.
The company completed all of the necessary nonprofit organizational paperwork and Watkins, eager to get started on yet another chamber project, drove to Washington state to personally pick up all of the computers and accessories.
The YEI students and teachers are now enjoying the benefits of training on up-to-date systems and software that those students will need to be able to use in the real business world.