Jefferson Wins Back-to-Back Titles!
| 3/19/2014, 10:33 a.m.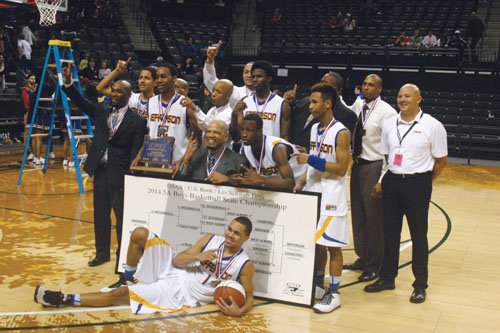 The Jefferson Democrats are once again sitting on the throne, as state champions. The 5A boys team was able to claim victory against Churchill, outscoring them 69-64.
The Democrats win came at the heels of the suspension of six players that same-day for what's being reported as "conduct detrimental to the team" by Jefferson coach Pat Strickland. Only one of the suspended athletes was a starter for the Demos.
The unplanned handicap left Jefferson with a roster of only six players on the March 15th game at Eugene, Oregon's Matthew Knight Arena.
Not only did Saturday's win make for Jefferson High School's second Oregon School Activities Association title in a year, it also marks their fifth in 7 years.
Despite Churchill's best efforts, led by Malik Morgan's 21-points, they were unable to out-net the north Portland school's scarce bench.
Jefferson senior Silas Melson who is also set to head to Gonzaga in the Fall led the Democrats' scoring efforts with his 24-points.
The squad that led the north Portland school to victory is now being hailed as the "Mighty 6". Saturday's players were the afformentioned Melson, Dario Papa-Vicente, Kadeem Strickland, Geno West, Da'Vaunte Paschal, and Quintus Hall Jr.
--Donovan M. Smith