Rose City Women Tell Their Own Stories
Women of Color Zines group fosters self-made publications
| 3/19/2014, 10:28 a.m.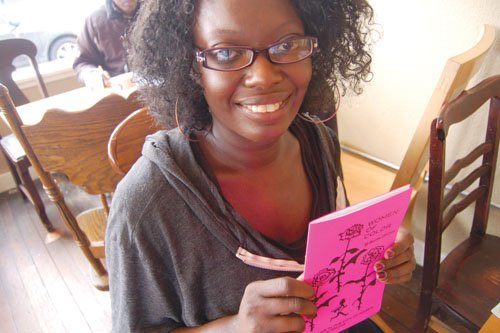 Art comes in all forms; the kinks that shapes a fro or a single lock of hair, the rain that reflects on Portland streets, and sometimes it comes by way of a group of multi-racial women making their own mini-books in an artform called zines.
Right here in Portland, minority women in the community are fielding their creativity as part of a small group called Women of Color Zines. The Portland Observer sat down with the founder, Tonya L. Jones, to discuss what exactly "zining" is, and why she thought it important to have a culturally-specific organization around this ever-popular craft.
"Our focus is on women of color in Portland," Jones says, "so we talk about our experience as women of color in Portland."
Pointing to the neighborhood surrounding a hip coffee shop where we met for an interview at North Killingsworth Street and Albina Avenue as a point of possible inspiration, she described how female members of her group are tackling issues like gentrification, art and beauty, and housing.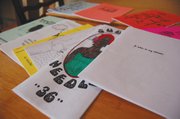 Zines are self-made booklets. The craft is an artistic free for all, usually comprised of literary expressions in which the creator is free to add pictures, poems, stories, scribbles, and thoughts in all forms.
Jones, 40, jokingly refers to herself as an "oldhead" when it comes to the craft, but nonetheless has become infatuated with it since her introduction to it some years back. So much so that in 2009, when Portland hosted the world's biggest zine festival, she was compelled to go.
She recalled how the works at the symposium were multi-layered and multi-storied and came in an abundance of colors, but ironically lacked color in terms of the race of the authors.
The lack of diversity sparked Jones, a Portland State University graduate student, to give birth to Women of Color Zines Portland in response. The group began meeting monthly out of the PSU Women's Resource Center.

"[Some] people feel very threatened by it. But I think people underestimate that Portland is a very white city, so women of color, people of color, are looking for those spaces, you know, to connect with people, especially women of color artists," she says.
At first, Jones said hardly anyone would come to her group, but after a time she began to see interest grow. Her dedication to the project has allowed her to see growth in different women throughout the group's five-year tenure.
As an example, she recalls a young woman originally from Chicago named Ebon Lee who joined up simply as a way to root herself to something culturally relevant after experiencing culture shock in Portland. Lee has since remained an active member.
"It's been good to see that progress of the women coming into their own voices, and you know, their own artistic styles," she says.
As for Jones, the good times and good art that she has fostered here may be soon be coming to a final chapter. As she gears up for her graduation in the fall, she also has her sights set on leaving her Rose City roots for the east coast shores of Maryland.
She says if someone does not pick up the mantle, Women of Color Zines will ink its final period the moment she walks across the stage at PSU's fall commencement ceremonies. In the meantime the women of the group will continue to create, and continue to color the ongoing story that is Portland.
For more information on the group and its upcoming event schedules, visit wocpdxzines.com and follow them on Twitter at @woczineworshop. To see about joining the group, shoot an email to Tonya L. Jones at wocpdx@gmail.com.
--Donovan M. Smith