Zoo Campers Learn and Explore
3/19/2014, 10:15 a.m.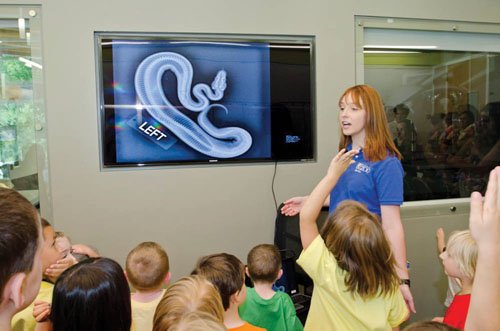 During spring and summer, Northwest campers should be prepared for encounters with bears, cougars and bobcats — not to mention giraffes, lions and flamingos. The Oregon Zoo's popular Nature Rangers spring break camps return March 24-28, and summer camps start June 16.
"Zoo camps are a great way for kids to have active outside fun and connect with nature," said Jennifer Whitener, program supervisor. "We'll be hiking, observing native wildlife, learning about animals — every day is an adventure."
Camp activities — specifically planned for the interests of each age group — include crafts, songs, stories, snacks, animal visitors and in-depth tours of the zoo.
The zoo's professional camp staff has been helping children explore the wonders of wildlife through fun, hands-on learning since 1983. Staff members are selected for excellence in programming for children and typically have also worked for public schools, OMSI, Outdoor School or Audubon. Most are college graduates or are working on a degree, and many return year after year.
For more information and to register for camp, visit oregonzoo.org.