Building Community
Business owner and community stalwart Sharon Maxwell launches a campaign for City Council
| 3/26/2014, 10:23 a.m.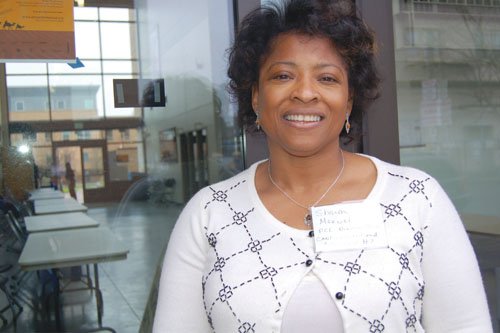 Sharon Maxwell makes it clear that as a long-time advocate for her community, she has been on the front lines of making Portland a better place both in terms of an improved economy and improving social conditions.
Now the accomplished businesswoman and all-around community stalwart wants to put her expertise to work for the city as a whole as she embarks on a campaign for the Portland City Council against incumbent Nick Fish in the upcoming May Primary.
"I always knew I was going to do something significant in the city," she says.
Maxwell broke a glass ceiling in terms of sex and race with the formation of her company, Bratton Construction. The African-American woman broke through Portland's male- and white-dominated construction field after graduating from Portland Community College's skill center construction program 21 years ago.
She was named one of PCC's 50 'diamond' graduates for her success as a business and civic leader. The honor was part of the college's recent 50th anniversary celebration.
Her company has created more than 200 jobs in the community, with business receipts ranging from a $50,000 contract to her biggest at $1.6 million.
Public initiatives that have helped her succeed in school and business are examples of what she wants to see accomplished in Portland's governance system, especially for local youth of color who can face some pitiful realities.
"When I met some young men and I asked them, 'What do you wanna do? What do you wanna be?' And you know what I would hear? They would say, 'I don't even think I'm going to make it past 25,'" she says.
When the lures of gang affiliation began to creep its way into Maxwell's own family several years ago, she did what seemingly comes natural to her; she built a response. At one point, her only son was charged with five Measure 11 offenses.
In the effort to combat the social ills facing her community, she was a cornerstone in the creation of two non-profits.
One of her organizations, House of Shalom, was made as an emergency housing transition program for families of children that were homeless, and men who were returning to the "mainstream" culture, post-prison.
The other group, Youth/Young Adults Being Connected, was created to work directly with gang-affiliated youth to help them reconstruct their hopes for the future, and divert what often is a path to prison or death for those that remain in the trappings of a downward lifestyle.
Despite her personal efforts to reach out to bring opportunity to the disadvantaged, Maxwell cites the some 500 murders in north and northeast Portland over the past 20 years as proof there's a lot of room for improvement.
She bemoans the poor economic conditions many residents still face and the displacement of people of color from their neighborhoods and the government policies that were supposed to help existing residents.
"I have a track record of seeing a problem, coming up with solutions, planning my plan and working my plan, she says.
Maxwell's campaign platform stands on four cornerstones:
• Establishing elections for the City Council based on regional zones like the Multnomah County Board of Commissioners does.
• Stopping the rising water and sewer bills for residents in the city.
• Investing in "human capital" social programs that give all citizens an opportunity to succeed.
• Accountability as it relates to city services
In regards to her opponent, she accuses Nick Fish of falling short in his engagement with the public.
"He's been a silent member of the City Council when it comes to the Department of Justice lawsuit and the abuses of the Portland Police system," she says. "What Nick has been doing is building his own portfolio on the backs of the people he should have been helping."
Ultimately, Maxwell says her long history of community engagement and rigorous work as a businesswoman will make her the best representative for the City Council.
"This is not just my race," she says, "My race is about all people. It's a shared community value where at the end of the day we are making sure that all citizens, throughout all 95 neighborhoods, are able to be successful."
--Donovan M. Smith