Colorectal Screening Saves Lives
Procedure can detect cancer before symptoms occur
3/27/2014, 3:24 p.m.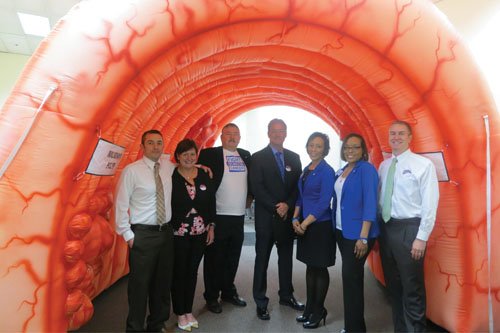 Tami Mahrt was two years past the recommended age for colorectal cancer screening. Though she considered herself healthy at 52 years old, she finally went in for her colonoscopy and awoke from the routine procedure with shocking news. Doctors spotted a 4.5 centimeter growth in her colon and said they'd need to remove it with surgery.
Mahrt, a manager of operations for the Multnomah County Employee Benefits Office, shared her story during a recent Colorectal Cancer Awareness Month presentation before the Board of County Commissioners.
The event included an interactive exhibit about colorectal cancer by Providence Cancer Center and Sanofi Oncology.
Colorectal cancer is cancer of the colon (large intestine) and rectum. Of cancers that affect both men and women, colorectal cancer is the second leading cause of cancer-related deaths in Multnomah County and across the nation, according to the Multnomah County Health Department.
Colorectal cancer screening, including a colonoscopy, finds abnormal growths called polyps in the colon before they can turn into cancer. Screening also helps find colorectal cancer at an early stage, when treatment often leads to a cure. The Centers for Disease Control and Prevention recommends regular colorectal cancer screening for those 50 to 75 years of age.
At the board presentation, LaRisha and Marsha Baker, co-founders of the Steve Baker Colorectal Cancer Alliance, joined Tom Foeller, an advocate and colorectal cancer survivor, and Dr. Mark Whiteford, director of the Providence colorectal surgery program and director at the Oregon Clinic, in urging people to undergo a colonoscopy before symptoms occur.
"We could cure colon cancer in about 85 percent of patients if we all got proper screening,'' Dr. Whiteford said.
Commissioner Loretta Smith brought forward the proclamation. Chair Marissa Madrigal's mother survived colorectal cancer 14 years ago. Commissioner Diane McKeel thanked them saying that she regularly was screened after her own father had died of colon cancer at 51.
"It is so, so important for everyone to have those colonoscopies done," McKeel said.
After turning 50, Tami Mahrt told the board that knew she was due for a colonoscopy, a procedure where a long, flexible tube with a tiny camera at the end is inserted into the rectum and used to view the inside of the entire colon. Like many people, she put off scheduling the procedure.
Mahrt says she felt she had no reason to worry. She had always been healthy. At that time, she was a senior associate for Mercer, an international human resources consulting firm, and she hadn't taken a sick day in eight years. She had yearly physicals and there was no indication that there was any problem at all. She was confident she didn't need to be screened.
Peer pressure helped her finally make an appointment.
"I was having a glass of wine with some girlfriends and one of them asked each one of us if we'd had our colonoscopies yet," Mahrt says. So, she scheduled hers.
After her colonoscopy, Mahrt was diagnosed with Stage 1 colorectal cancer. The cancer was self-contained and hadn't yet spread to surrounding tissue. Her surgeon was able to remove all the cancerous tissue and she did not require chemotherapy or radiation. Because her type of cancer can grow back quickly, her follow-up care has required exams every three months for a two-year period and a colonoscopy each year. She has recently graduated to an exam once each year and a colonoscopy every three years.