Fighting for the Innocent
Oregon Innocence Project a lifeline to the wrongly convicted
| 5/7/2014, 2:25 p.m.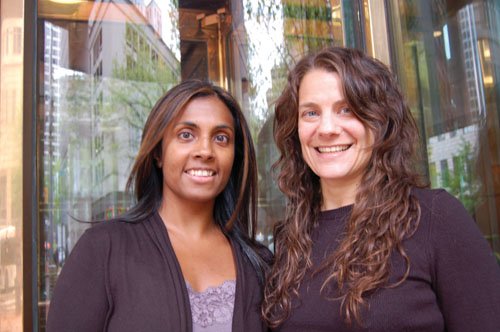 As a jail cell will almost certainly shut on at least one innocent Oregonian today, workers at the Oregon Innocence Project say they are hoping to make the lockup of any inmate wrongly convicted an injustice of the past.
With one full time lawyer, and the rest of its attorneys and staff working pro bono, these dedicated experts agree that, "Ultimately we're trying to put ourselves out of business."
The Innocence Project is a national project dedicated to helping people who have been wrongfully found guilty of a crime, and this is done largely through DNA testing. Oregon was the last state to join the movement when it launched the Oregon Innocence Project last month.
Oregon's Federal Public Defender Steve Was is giving up his position to join the group as its first legal director.
The group's simple-on-paper but hard-in-execution mission of getting innocent people out of jail begins this summer.
The Portland Observer spoke with two of Oregon Innocence Project's co-founders, attorneys Aliza Kaplan and Janis Puracal, more about their overall mission and how they plan to tackle this justice issue moving forward.
"We know that there are innocent people in jail all over the country. We know that there are innocent people in Oregon's jails," Kaplan asserts.
As a teacher of legal analysis and writing, wrongful convictions and public interest lawyering at Lewis and Clark College; a consultant on death penalty and wrongful convictions cases; a representative of asylum seekers; an active member of the Oregon Justice Resource Center, amongst other accolades, it is safe to say issues around legal justice are Kaplan's forte'.
Kaplan says Oregon was overdue for their services.
Barry C. Sheck and Peter J. Neufeld launched the Innocence Project in New York in 1992. That year the number of exonerations for the organization totaled in the low spectrum of single digits. But since then, about 1,400 people in prison have been given back their freedom.
In the U.S.A., however, where less than five percent of the world's population resides, but where almost a quarter of the world's prisoners are held, odds are there many more unfairly deemed state property.
As for Oregon, the overall prison population stands at 13,438 strong.
With $135,000 earmarked for the Oregon Innocence Project's initial annual budget, about half those monies are designated to the full time legal director position. The rest of that money goes towards investigations, administration, testing, experts, and whatever is necessary to litigate and review the cases.
Research shows that number one reason people continue to end up in jail unjustly is eyewitness misidentification.
Kaplan explains how incorrect identifications can stem from a number of reasons; everything from what's shown to the eyewitness; the method of which evidence and suspects are displayed to a witness; and other factors which can corrupt the ability to properly I.D. someone.
Puracal, also an appellate attorney, says 30 years of science proves how malleable human memories really are, something she's experienced firsthand. In 2012 she successfully represented her brother Jason Puracal, an American, attaining his freedom after he had spent nearly two years in a Nicaraguan jail on false drug charges.

Puracal calls cases like her brothers and others, "opportunities" to examine what went wrong in the criminal justice system.
One of the key components of the work by the Oregon Innocence Project is keeping it absolutely pro bono for any clients they take on.
Operating in conjunction with the Oregon Justice Resource Center and Metropolitan Public Defender Services, Inc., the Oregon Innocence Project is currently supported mostly by private donations. Moving forward, Kaplan says their services should ultimately be supported by the community.
"So that means that whether it's government funding or it's private funding, we as a community have to look at it, and say, we've created this system. This system has flaws in it, we can see the flaws, we know what they are so we have to take a responsibility for that—and that's a financial responsibility," Puracal says.
"The most important thing is that the defendant, the inmate, that he not be paying for the state's mistake. That shouldn't be his responsibility," Kaplan says.
The justice advocates say it's also going to take the community's support to help innocent inmates transition into the 'real world' once they are liberated.
"It's a really hard life when you get out. In fact, in a lot of states people who are exonerated, even after being in prison wrongfully 5 years, 10 years, 20 years, don't even get the same services as a parolee," says Kaplan, "When we've taken someone's life away, especially for many, many of the mostly—I'm gonna say men—we've taken away the years of their life where they would be in school, getting job training, starting families, all this, and they lose that opportunity."
Twenty-seven states have some form of a compensation law for men and women who have been found innocent after serving time behind bars, though the services and payout differ in each state and can take years to fully collect. Oregon is not one of these states.
Part of the Oregon Innocence Project's work will include getting a law on the books that helps people unfairly convicted "get back on their feet" once out.
Puracal's brother was assaulted multiple times in prison and starved so much he lost 30 pounds. Once out, he explained in an interview with Associated Press that the goal of helping his young son, who was affected with Down Syndrome, was what gave him hope behind bars.
"I was always thinking of him. I knew I needed to endure this, to get out, and reunite with him. He gave me hope," the now 37 year old exonerated prisoner explained.
His sister says Jason has adjusted well back into life to a large extent because of the services and support he received from the community upon his release.
Puracal says the people of Oregon and around the globe will all be necessary pieces to help the wrongly convicted get back in sync.
The Oregon Innocence Project urges people to support them by volunteering their time or making financial contributions. For more information about the organization and how to help, visit oregoninnocence.org. For more information on the national organization, visit innocenceproject.org.
-- Donovan M. Smith