In Loving Memory
Timothy "T" Johnson
5/8/2014, 10:45 a.m.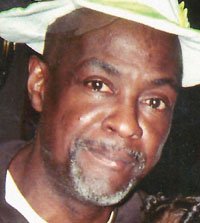 On May 2, 2014 we lost a loving father, son, brother and friend.
A public viewing to say your goodbyes to Timothy "T" Johnson will be held on Friday May 9, 2014 from 12:30 p.m. to 8 p.m. at Evergreen Memorial Garden, 1101 N.E. 112th Ave., in Vancouver, WA.
He was preceded in death by his daughter Sharise, brother Bob, and his father Willie James Johnson.
He is survived by his mother Luvicer Johnson; his son Willie Andre; daughter Timaya Johnson; brothers Kenny, Eric, and Keith; sisters Marie Taylor, Geneva, Nicole, Ericka, and Charlotte Johnson; grandchildren Andre, Nesha, Ki'Andre, and Willie Andre Johnson Jr. ; and many nieces, nephews and friends.