Ballerina Aspirations
'Aspire Project' makes the arts accessible
Erin R. Fried | 5/14/2014, 11:23 a.m.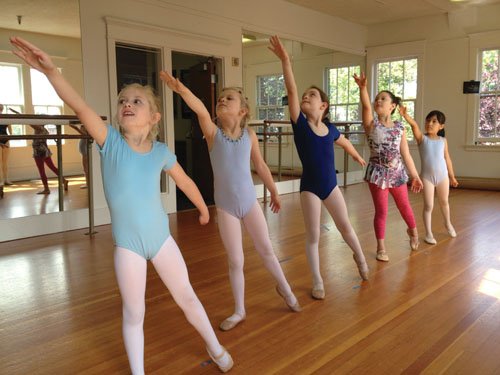 It is not everyday that a 5th grader has the opportunity to dance in front of 400 plus people, a performance most adults would shy away from in a heartbeat. But there is no doubt this 5th grader, Anna, is excited. And she says the best way to achieve her aspiration to be ballerina someday is "to take a lot of classes and do the best you can."
Anna is one of the many economically disadvantaged students learning ballet from The Aspire Project, a non-profit dance organization teaching classes out of their studio in the historic Ethos Interstate Firehouse Cultural Center on North Interstate Avenue.
In conjunction with the after-school programs of SUN Community Schools and sliding scale tuition rates, these dance classes are made accessible to youth who have a passion for dance, regardless of the families' financial situation. And once a year, these students exhibit their hard work in front of a huge crowd.
The community is invited to the free spring recital on Sunday, June 8 at 3:30 p.m. at Roosevelt High School in north Portland. Simply by attending, the community can give back through the easy contribution of moral support.
For most of the children, the upcoming performance empowers them to work hard and seek positive avenues to achieve their aspirations, an investment in their well-being that lasts a lifetime.
"It gives these girls confidence in themselves," Aspire Project Executive Director Sue Darrow said. "No matter what their circumstances are, they know that if they work hard enough, and practice, they'll be able to accomplish what they set out to do and aspire to be whatever they want to be."
The Aspire Project's mission to provide all children the chance to dance and encourage them, their families and their communities.
The opportunities are made possible almost entirely through the financial generosity of Darrow and her husband and co-founder, Dan Darrow.
For Sue Darrow, it's all about giving back to her community after the community supported her as a single mother of two boys when she was unable to afford their afterschool programs.
Those benevolent acts of kindness empower her to this day, personally connecting her to The Aspire Project's community, and to kids like Anna. Sue Darrow knows that with encouragement and opportunity, these kids can sustainably improve their situations and inspire those around them.
"I dance in the kitchen and show my mom and she gets happy when she sees me. I do it for her," Anna says.
The Aspire Project also is taking reservations for its affordable and fun summer dance camps, offered on a sliding tuition scale. The camps will be held from June 23 to Aug. 15. Register at theaspireproject.org or call 503-505-0382.
Erin R. Fried is the program coordinator for The Aspire Project.