Beyond an Ugly Past
Portland woman's memoir of a hard life and hope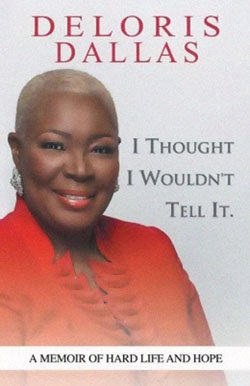 A long time Portland woman has written an inspirational and dramatic story about how she escaped poverty and life-and-death challenges as a child to build a better life.
"I Thought I Wouldn't Tell It," by Deloris Dallas is a memoir of a hard life and hope.
"This is my first book, which my daughter encouraged me to write after the death of my mother over two years ago," Dallas told the Portland Observer. "I am happy about this accomplishment because it was not easy writing about myself and my ugly past."
In the memoir, Dallas recalls growing up on Jamaica, an island whose beauty often contradicted by appalling moments in her childhood. From her birth in the rural island countryside to abandonment by her parents, she faced life-or-death challenges earlier than most. When she was at a foster home farm, grownups were often enemies. As an adolescent, they often betrayed her trust.
But she remained determined to learn and grow, which led to a flight from her homeland to the United States when she was an adult. The journey forced her to leave her children and break the law, and also forced her to confront sex traffickers.
It was only through years of hard work that she was able to return to Jamaica, rescue her children from poverty, and bring them to the United States, where they could be safe. Although she has been scarred, she somehow beat the odds to build a better life for herself and her family.
Dallas has been living in Portland for 25 years. She and her husband are foster parents and have raised seven children of their own, who all are grown men and women now.
"I Thought I Wouldn't Tell It," takes you on a tremendous journey as Dallas finds out where she came from, who she is, and why she continues to believe that anything is possible.
Copies are available from Abbot Press, abottpress.com or through your local or online book seller.
--Micheal Leighton