Common Core Rollout
Schools implementing new standards, tests
| 5/14/2014, 11:26 a.m.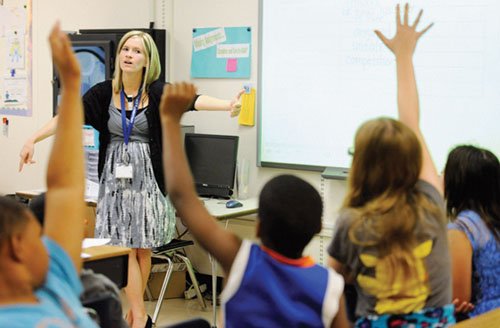 Improved academic standards and higher achieving students are the said primary goals behind a new learning system that has been adopted in Oregon, Washington, and 43 other states. Called Common Core State Standards, the uniformity of the curriculum means that no matter your zip code, if you're a pupil in the public school system, you will have the same expectations for learning, period.
Portland Public Schools is rolling out Common Core for all grades. It includes making changes in curriculum to "ensure college and career readiness at the end of high school."
The transition comes as schools in Oregon work to boost their graduation rates. According to the U.S. Department of Education, the state had the fourth worst high school graduation rate in the nation with just 68 percent of pupil earning their diplomas in 2011. That same report, released this year, shows Oregon as having the worst graduation rate for whites and the third worst for black students in the country.
A uniform curriculum has both critics and supporters on all sides of the political spectrum. The Oregon G.O.P. took an official stand against the state's adoption of Common Core, calling it big government and "one size fits all." But the National Urban League, representing students of color and other disadvantaged populations across the country, says the standards are needed for students to succeed and compete in the global economy.
Opponents criticize the standards for being created outside the school system with funding from many big-name companies, some which include Exxon Mobil, Wal-Mart, and the Gates Foundation headed by world's richest man Bill Gates.
Rob Saxton, Oregon Deputy Superintendent, has predicted that only 35 percent of students will pass the new standards in Oregon initially, a stark contrast to the 75 percent that met or exceeded Oregon's current Assessment of Knowledge testing. But Saxton says schools must "start somewhere" and he is going to make sure the state's 1,200 plus schools implement it properly.
Overall Common Core and its associated testing are expected to cost the state $13 million a year, in comparison with the $9 million it took to employ other standardized tests in previous years.
A state grant gave the Portland School District about $496,000 to help implement Common Core through 2015. Nationally, the testing and curriculum requirements will cost taxpayers an average of $22.50 annually, according to research conducted by the Brooking Institute.
State Rep. Lew Frederick, a Democrat and African-American lawmaker representing north and northeast Portland in the Legislature, says he has "significant concerns" about the testing requirements for Common Core.
One of Frederick's fears is that students, especially minorities, will receive less attention to subjects like art and history, as teachers shift toward teaching to the test in order to gain on overall achievement scores.
National Urban League President Marc H. Morial has stated the opposite, expecting students in historically underserved populations to benefit from Common Core.
"We will not be able to close the achievement gap if we continue to have different expectations for different students," Morial said in a recent weekly newsletter.
He said higher standards for every student, implementation resourced equitably, and instruction based on real-world problem-solving rather than rote learning, would bring clear and consistent expectations and help close the widening achievement gap between races and economic classes.
Under Common Core, schools that rank in the lowest 5 percent become what the Department of Education calls priority schools, receive additional help. The next 10 lowest percent become focus schools and also receive extra help.
The only states yet to adopt the new curriculum are Alaska, Texas, Nebraska, Minnesota, Indiana and Virginia.
--Donovan M. Smith