God's Prophet in Non-Violence
Local pastor writes book on Dr. Rev. Martin Luther King
| 5/28/2014, 12:08 p.m.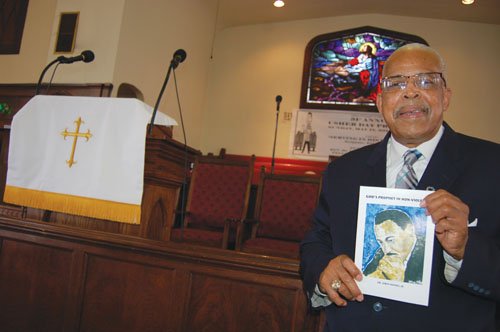 In spite of the passage of the 1964 Civil Rights Bill, and the 1965 Bill of Rights, many witnesses to the Civil Rights Movement, began to look for alternative modes of achieving not only racial equality, but pride of self, he says.
Where previously blackness was seen as a negative, black activists began to remake it into a positive.
"The Black Cultural Revolution really brought about identity and the beauty of blackness and the beauty of black culture," Haynes says.
Ideologies clashed when the non-violent methods of the Civil Rights Era began to fizzle out. Before long the two groups would part ways, leaving many members left to decide on which group to align with; Haynes would choose the more militant of the two.
He went on to head the Dallas Black Panther Party and form cadres across Texas.
Haynes' newfound militant ways would only last for a few years. By his mid 20s, a brand-new instillation in the Christian faith saw him once again dedicating himself to a belief system of non-violence.
He forfeited his position as co-organizer of the Dallas Black Panther Party and began to dig deeper into his faith by way of his formal studies, attaining his Masters of Theology from Perkins School of Theology at Southern Methodist University and then his Doctorate of Ministry from Brite Theological Seminary at Texas Christian University.
All the while, Haynes continued his work against racial oppression; a fight that brought him to the Pacific Northwest and a city dubbed the "whitest major city in America."
He has served as pastor to Allen Temple CME Church in northeast Portland since 1997.
While there he has been at the forefront of work to reform state and city policies around police work, issues like racial profiling and officer-involved shootings of unarmed black residents.
The Albina Ministerial Alliance, which Hayne's co-heads with Pastor T. Allen Bethel of Maranatha Church, has been in operation since 1971 and represents 125 churches in the Portland area, most of which are stationed in north and northeast Portland.
Though he says many of the problems black Americans face in Oregon are not far removed from the plights they tend to face nationwide, issues like education, economics, affordable housing, mass incarceration, black-on-black crime, and institutional racism, there is a major difference in how the controversies are addressed here.
"Now the difference from the Southern tradition of racism, in Oregon and in particular Portland, is that sometimes it's hidden, and sometimes it's masked, and sometimes it's institutionalized, and it's given a very liberal progressive face; and there is certainly a very strong progressive community here, but there is also racism in this city," Haynes says.

In "God's Prophet" Haynes says that the successful attention brought to police shootings in Portland over the past decade, such as the Aaron Campbell and James Chasse cases, demonstrate the effectiveness of non-violent tactics as a mean of increasing mass awareness, civic engagement, and "one of the most potent forces for change and reconciliation."
Haynes cautions people that the ideas of "love" and non-violence King preached were not ones of weakness, but self-empowerment in the face of wickedness.