In Loving Memory
William Woods Sr.
11/19/2014, 2:15 p.m.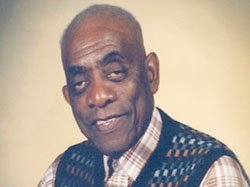 A memorial service for William Harold Woods Sr., who died peacefully at home with loving family members present on Oct.30, 2014, will be Held Friday, Nov. 21 at 11 a.m. at Bethel A.M.E. Church, 5828 N.E. Eighth Ave.
He was born May 18, 1921 in Tulsa, Okla., to Florence Cherry and George Edward Wood Sr., the third of six children. The family soon moved to Coffeyville, Kansas.
In the early 1940s, he came to Portland as a member of the Civilian Conservation Corps (CCC) helping with the development and conservation of forests by planting trees, constructing service buildings, and working to build rural public roadways. It was in Portland, that he met the love of his life, Cledie Lee Green. They married and from this union they were blessed with four daughters and four sons.
He worked diligently to provide for his family, from services as a Porter on the railroad, doing foundry work at Alcoa, and as a bus driver for Tri-Met. He was a person with multiple skills and talents who liked to help others and interact with people from all walks of life. He helped with community projects related to educational concerns and neighborhood living conditions.
He loved to travel, fish, bowl, and watch both college and professional football while keeping up-to-date on the latest political issues. He was an avid Trail Blazers fan.
He joined Bethel A.M.E. church in 1956 and faithfully attended Sunday school and morning services. He sang in the choir, was an usher, and served on various church boards and committees. The phrase "It takes a village to raise one child" symbolizes how the youth in the church and community felt about his mentorship and guidance.
Preceding him in death were his parents; a brother, George Wood Jr. and three sisters, Margaret White, Mary Jean Berry, and Maxine Slaughter.
He is survived by his dear wife Cledie; a sister, Katherine Hale, his daughters, Phillis Pace, Judy Webb (Larry), Daphne Barnes and Margot Woods; and sons, William Woods Jr. (Saundra), Clarence Woods (Yvonne), Korla Woods and Leonardo Woods. He also had a host of grandchildren, great grandchildren, great-great grandchildren, nieces, nephews, and cousins, as well as many honorary family members.
In lieu of flowers, donations in remembrance of Mr. Woods, may be made to Providence Hospice, 6410
N.E. Halsey St., Suite 300, Portland, OR 97213.