Oregon's Hidden Past
Paintings Depict Historical Cultural Roots
11/19/2014, 1:33 p.m.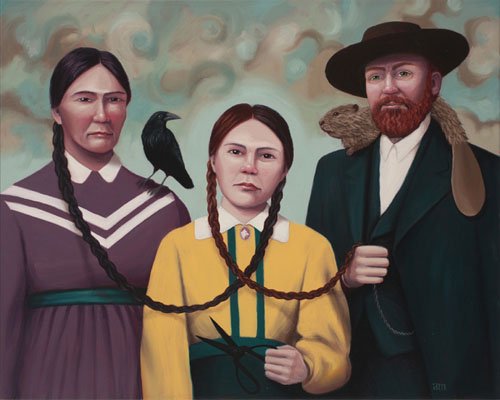 Portland artist Anna Magruder loves painting people from the past and her new series of historic surrealist paintings portray some of the hidden stories involving people of color behind Oregon's history.
Her project, "Oregon's Painted History," is currently on display throughout the month of November at Portland'5 Centers for the Arts, 1111 S.W. Broadway.
The idea for the series emerged after Magruder did a painting titled Métis, depicting children of French Canadian men in the fur trade and Native American women. The family portrait of a mother and father with their daughter between them, sharing a braid of hair, alludes to the struggle for identity between two cultures.
After receiving overwhelmingly positive response to the painting, she realized that there was more history to explore and show through her art.
"Our city is influenced by what has gone on before and I wish to honor this history as well as the courage and resilience of the people who have paved our way," says Magruder.
Rather than recreating exact scenes of events, Magruder uses historic surrealism that relies on symbols and metaphors to capture emotional impact and broader implications of the topics. Some paintings in the series use identifiable figures, such as Beatrice Morrow Cannady, the historical civil rights activist, editor of the Advocate and first black woman to practice law in the state.
The painting shows her spilling tea into a sea of white while behind her stand a variety of African-American supporters. Other paintings show individuals who represent larger groups and concepts.