Pinnacle of Success
PCC unveils championship banners
Abe Proctor | 11/21/2014, 12:08 p.m.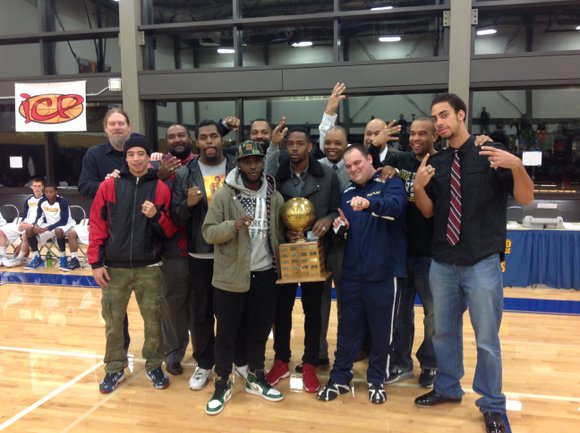 Sometimes, when the hard work is done, it's good to sit back and just have a moment.
The 2013-14 Portland Community College men's basketball team had their moment on Nov. 17 when a crowd of well-wishers filled the Cascade Campus gym in north Portland for the official unveiling of PCC's first-ever division and conference championship banners.
"You know, when [the coaching staff] arrived here, one of the things we noticed was there were no trophies, no banners on the wall," said head coach Tony Broadous at the unveiling ceremony. "I'm just so proud of these men and what they've done."
The Panthers defeated Pierce College 92-86 in March to win the Northwest Athletic Conference, taking home the first intercollegiate championship in PCC's history, reversing a string of several losing years.
Most of the players from last year's team, along with the coaching staff, were on hand for the special ceremony and received their NWAC championship rings. They then joined a raucous crowd to count down to the unveiling of the championship banners by PCC President Jeremy Brown and Cascade Campus President Karin Edwards.
Later, this year's Panthers men's team capped off the evening with a scrimmage win over Centralia Community College.
---
Abe Proctor is the community relations officer at PCC's Cascade Campus.