'Gone Girl' Dreadfully Disappoints
Film short on believability and promotes stereotypes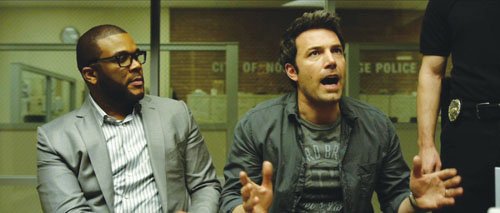 Writing film criticism is a labor of love for me, with the primary objective of appreciating and bringing attention to films that really deserve an audience. But rarely, I feel the need to call out a film that is particularly terrible, especially if it is garnering a lot of acclaim that I don't think it deserves. So, let's talk about "Gone Girl."
Fair warning, this review will contain spoilers. If you want to judge this film yourself and want the opportunity to be surprised by it, postpone reading this. But I hope you will read it.
Let me start by saying I think this film fails on its own terms. It is supposed to be a suspenseful psychological thriller, and has been lauded as a masterful example of one. I find that baffling. I saw everything coming, except the ending -- and I suspect that is because I didn't think even this dreadful film would stoop so low as to end the way it did. The plotting seemed to me clunky and obvious. I didn't believe a second of it.
That also goes for the psychological aspects of the film. The story involves a really bad -- that is to say, murderous -- marriage between a woman, Amy (played by Rosamund Pike) who is meant to be seriously disturbed (perhaps a psychopath), and a man, Nick (played by Ben Affleck), who does bad things but is not psychologically disturbed. You know, more of a movie Everyman.
As someone whose life has included more than the usual number of encounters with people with personality disorders and who sometimes finds stories about destructive and disturbed people interesting and enlightening, I did not find Amy's behavior and psychology to be remotely believable. I am curious about what anyone with psychological training would say, but I thought her motivations and actions made no sense even for someone who is disturbed. For example, why the attraction to Nick? He is handsome, yes, but with her looks and money she can get any number of handsome men. He is sort of a lunkhead, and not her intellectual equal. He is more lowbrow than she fancies herself to be. Why the obsession that culminates in her locking him into the marriage at the end? I could go on -- but suffice it to say that the film did not convince me that people like Amy exist, or illuminate anything about them if they do.
And then there is Nick, himself. We're meant to believe that he is suave and dashing enough to capture Amy in the first place but then a complete plebeian in who he associates with and how he spends his time and in how he deals with vicious, female-driven media hounds (more on that later). He cheats on Amy with a younger student and lays around the house playing video games and having no ambition. Yet Amy is obsessed with him.
You would think this world filled with diabolical women torturing poor, hapless Nick was dreamed up by a man -- but, as people are quick to point out when I and others criticize this film, the writer of both the screenplay and the best-selling novel on which it is based is a woman, Gillian Flynn, who even describes herself as a feminist.